The Hills of Home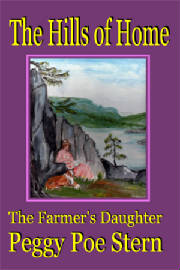 The Farmers Daughter
4. ISBN # 1-59513-052-7 $16.95 Appalachia
Theo Walden learns of love and understanding in her hills of home, plus a whole lot more. Granny teaches her that life isn't always fair or good. Greta fills her young head with ghost stories scary enough to keep her awake at night. Popaw and Daddy show her what its like to be mountain men: fair, tough, and yet gentle. Most important, Theo learns that wealth doesn't make a person happy. Love does.
Stud from Horney Hollow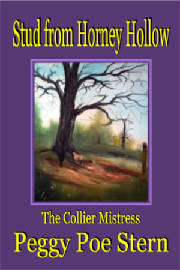 The Collier Mistress
5. ISBN # 1-59513-051-9 $16.95 Mountain irony
Willi Smith, a hard-nosed Florida real estate broker, had determined to get above her roots by obtaining wealth for the security it should bring. Having set her career before relationships, she realizes that her biological clock is ticking. She wants a child, but doesn't have a man.
Burl Horney, a widowed mountain Christmas tree grower, travels to Florida to sell his trees. Little does he know how he is being caught up in her quest.
Mountain Splendor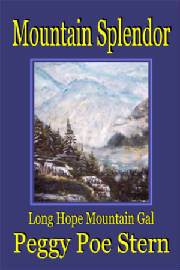 Long Hope Mountain Gal
6. ISBN # 1-59513-050-0 $16.95 Mountain western
Needing to make the farm payment, Ramona takes on her recently departed husband's next job assignment. Pretending to be a man, she guides a group of Yankees through the mountains. The tour is cut short, setting up a chain of events that keeps Ramona jumping from the frying pan to the fire.
Blood Moon Rising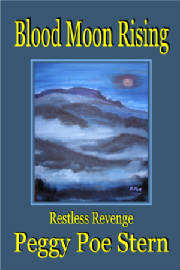 Restless Revenge
7. EAN # 978-1-59513-049-5 $16.95 Mystery
The fires of hell would burn me in time for what I was about to do, but right now, that didn't matter. I was on my way to kill him. Someone should have killed Buck Walsh a long time ago for the things he did, but people were scared of him. I'm scared of him, but that no longer mattered either. He had raped me.
Wild Thing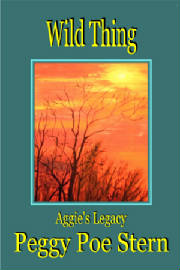 Aggies' Legacy
8. EAN #978-1-59513-048-8 $17.95 Tall tale
Cadence Williams settled beneath the quilt willing to go into a deep sleep. He hadn't slept much for the past two nights. Fear mixed with self-anger kept him awake. He hated fear. It was a sign of weakness, especially when it was his own. It angered him to fear when he wasn't sure if the cause of it was real or imagined. Yet, his gut told him that thing was near his house, moving in the woods like a dark shadow, stalking him when he went outside to do up the work, and even coming to his window during the night to watch him.
Above All, A sequel to Heaven-high & Hell-deep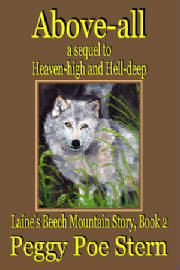 Laines' Beech Mountain Story, Book 2
9. EAN #978-1-59513-047-1 $17.00 Mountain story
His hat was pulled low over his black hair and his shirt sleeves were rolled up almost to his elbows. His hands appeared strong and in control as he held the reins of his high stepping horse. He looked a little thinner than he used to be and a lot more tired.
"What's wrong?" he asked me fast.
"You've got to go back to Banners Elk," I told him, forgetting about supper.
His eyes widened with concern. "Should you ride? I can deliver the baby here."
For Carol Murdock's review visit The Writers Porch
Joppa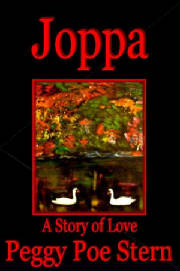 A Story of Love
10. EAN #978-1-59513-046-4 $17.00 Love story
"Leona," he sipped his hot coffee. "I know I'm going to regret asking this, but tell me the story of Joppa and Harry Barnard from the beginning to the end.
"It's a seventeen year stretch of time," I warned.
"This place isn't overrun with customers."
"If I tell you, will you use it against me. Claim I'm crazy; refuse to help me?"
"Attorney-client information is privileged. I don't tell anything you say not to tell."
"You'll think I'm a fruitcake."
"You're not?"
Thunder Hole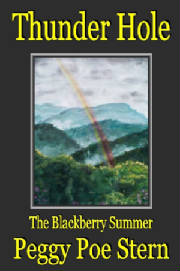 The Blackberry Summer
11. EAN #978-1-59513-045-7 $17.00 Culture clash
He started to say more then hesitated before he added, "Do you know what I want, Billie, really want?"
"Besides me being five years older?"
Her ignored that. "I want you to go to college."
She laughed.
"I'm serious."
Her laughter stopped too sudden and she looked at Malone with eyes beyond those of childhood. "It won't happen."
"Why not?"
An Honorable Man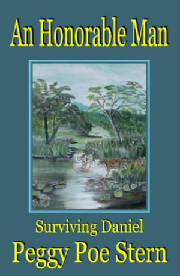 Surviving Daniel
12. EAN #978-1-59513-045-7 $17.00
After twenty-four years of marriage to Daniel, Carrie Jane can take it no longer. Leaving everything behind, she slips off one evening to start anew.
"Tell me, Dad, why does this woman interest you?"
He scratched at his gray hair again before he spoke. "Something wasn't exactly right about her. A teenage girl might run away for any number of reasons, but a woman her age doesn't. She was . . . well, I kinda pitied her. There has to be a mighty powerful reason when a woman hides in a moving van."
Running Wild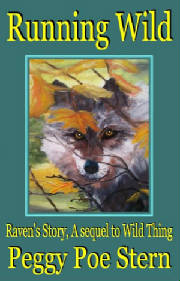 Raven's Story : A sequel to Wild Thing
13 EAN #978-1-59513-043-3 $17.00 Tall tale
The girl came up over the rise, running with a long, distance-eating gait and drawing deep breaths of air into her lungs. Reuben found her strangely attractive although something about her appearance was odd, much different than any girl he had ever seen before. Her hair was just as black as his and reached below her slender hips. It caught the wind and flowed back from her face as she ran. Her ragged clothes were not clean and once belonged to a man. There wasn't one ounce of fat on her wiry body, but none of this did he find odd. What was odd was her over-all demeanor. There was an energy force radiating from her, a life force such as he expected to see surrounding the mountain lion or one of the bears he loved to hunt, a savage appearance that warned to keep a safe distance away.
Holy shit, he thought. She's wild!
Dream Lover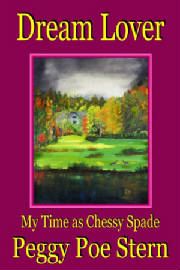 My Time as Chessy Spade
14 EAN #978-1-59513-042-6 $18.00
"What?" I managed to say about my confusion.
Her hand tightened on mine. "Emmilee can't live in this world. This time around the life you are experiencing is meant for Chessy." Her wrinkled face shown with the strangest kindness directed solely at me. "Micah McCall has to accept that fact the same as you."
She had mentioned him before, but I'd never heard of a McCall living around here. "Tell me, who is Micah McCall? I have a right to know."
She ignored my question about McCall. "This life cannot be lived in the past. It can only be lived in this moment. You understand that, don't you?"
It sounded good, but as far as understanding, I wasn't sure.
Blood Kin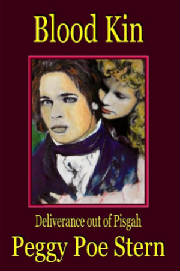 Deliverance out of Pisgah
15 EAN #978-1-59513-041-9 $17.00
"Are you hurt?" asked a gentle voice.
I knew I had fallen asleep and the voice was in my dream, but I couldn't make my eyes open. Exhaustion was too strong, as was my ever-present fear.
"Don't be afraid," continued the voice. "You're safe with me."
I wanted to laugh, but my dream world wouldn't allow laughter.
"You're wet and shivering," the voice said. "I'll have to carry you to safety. This cliff is dangerous in the best of times."
He wasn't telling me anything I didn't already know.
Hands touched me, strong hands. Did dreams come with hands? It was then my eyes opened and I saw the face of a man. I let out an earsplitting squeal.
"It's all right," the gentle voice continued. "I need to see if anything is broken before I move you."
The moon was up and shining on the man. I expected to see a hairy monster with only a human face, but I didn't. The face was ruggedly attractive in the pale moonlight. There was no long, shaggy, body hair.
A smattering of relief hit me. This really was a man. With his help, I might be able to survive, but first I had to warn him of what had happened to my team.
"Help me!" My hands grabbed the front of his coat and clung. "There's monsters. They killed my team. All of them."
Blind Faith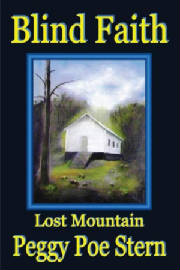 Lost Mountain
16. EAN #978-1-59513-040-2 $17.00 Mountain story
Page 33
Carlee knew she was going to Landreys Fork before she hung up the phone. Business gossip, as well as truth, had her at a homeless shelter in New York City, and that was not a good recommendation, or a good address, when seeking a high paying position with a responsible company. At least she did have a house in North Carolina. She hoped desperately her unemployment check would be enough to buy a bus ticket with a few dollars remaining for sundry expenses. Goodness knows; it wouldn't cover a plane ticket.
She found herself hating Bernard Madoff all over again, not to mention the despicable circumstance he had put her in.
Page 303
Carlee found herself at Lum's.
It seemed the old woman was sitting on the rock wall watching for her to show up.
"Didn't think you would get here this quick, but I was waitin'."
"Why didn't you tell me?" she asked.
"I take it you're here about the diary and not about Jason."
"You take it right. Why didn't you tell me?"
Lum cocked her head sideways. "Because it needed to come from your mother, not from me."
"You could have told me about the diary."
"You found it didn't you?"
"You didn't tell me it was there."
"Thought you needed to adjust to Lost Mountain and your people before you got shocked good and proper. Besides, everybody told you that you were one of us."
Page 322
Carlee knew whom to blame for her own poverty. She blamed Madoff as well as herself. Never again would she let greed destroy her. She would never risk everything she owned again; never believe she was so secure she wouldn't get bulldozed over. Blind faith was a foolish thing.
Served Cold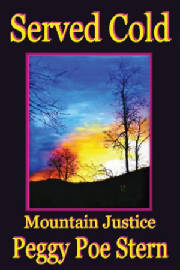 Mountain Justice
17. EAN 1-978-59513-039-6 $17.00 2011, paperback, 357 pages
One might say there has been a slow poison brewing inside me, bubbling, and churning, and threatening to erupt for the major portion of my life. The only reason it has been contained so long is I did not have every ingredient I needed. I now have them all and I am ready for Jackson Winkerson. By the time I am through with him, he'll regret what he did to me.
This brew has been gathering itself for over twenty-three years. Never once, not for one day, not for one hour, have I left my brew unattended or unwanted. Three months ago, it reached its most potent stage. My husband, Coleman Cottumn, died. I would have delivered my brew the day after he was buried, but I had to wait the standard ninety days before my attorney, Marshall Evans, declared me in full control over everything my deceased husband left behind, which to my delight, is far more than I ever imagined. He could have given Bill Gates a fair run in financial genius.
#23