November 20, 2011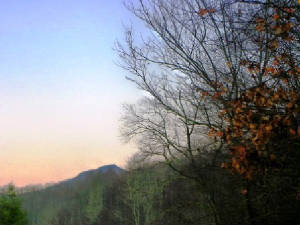 Hanging Rock at early morning
November 20, 2011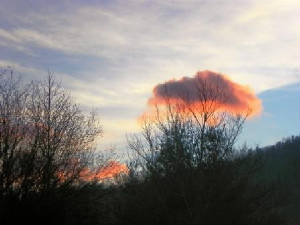 Sunday sunrise
November 14, 2011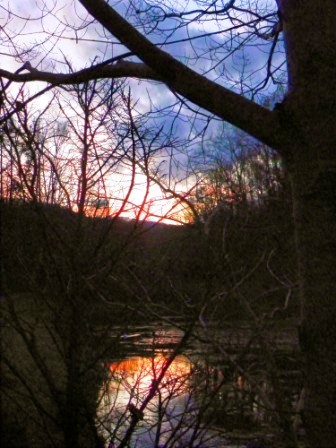 Reflected sunset
November 20, 2011, "Lesson in Economics"
One spring, Peggy decided she would outdo herself. She kept making up hanging baskets trying to enclose the porch with a wall of flowers. She'd done a rather good job at about 40 baskets.
One of our surveying clients came by and stopped on the porch to look at all her plants. Peggy proudly went out to meet him, expecting a compliment for all her blooms.
Warren looked at her and frowned. "Peggy, why have you wasted all your time and money on all those flowers?"
"I think it's fun to brighten things up."
"Humph," Warren said. "You should have bought liquor. You'd have spent half as much and had twice the fun"
Comment of the week:
Peggy and I were talking about a family member at breakfast.
Peggy said, "He lacks just a little being a great man."
"Honey," I replied. "About half of the world's population, the industrious ones, lack just a little being great people. Problem is it's the ones who don't do the trivial things for themselves, like washing their own clothes or house maintenance, which become great."
"Then there's hope for you yet," Peggy was quick to tell me.
November 12, 2011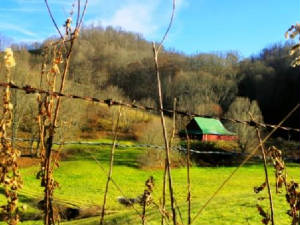 Barn on Highway 88 near Ashe & Watauga county line
November 12, 2011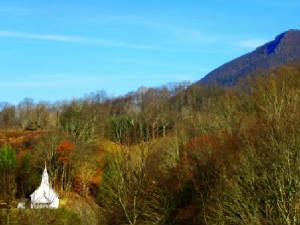 Sutherland Church
November 12, 2011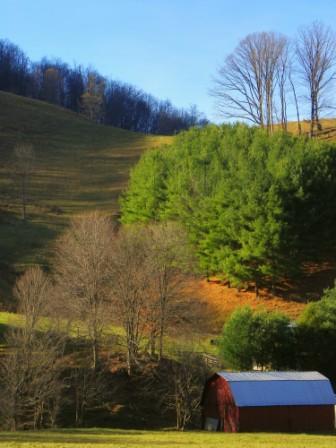 Barn on Pottertown Road
November 19, 2011, Naked truth
On a cold day, one Christmas season, Charlene, at the Twigs of the Roan, invited several local authors for an open house event at her shop. While there, a couple came in very neatly dressed.
Peggy and the gentleman struck up a conservation about the cold weather.
He was telling a tale about heating his house one unusually frigid winter day. "My wife was freezing. She kept telling me to add more wood to the stove. I kept adding more wood, but she was asking for more — she was still cold. I thought, 'this time I'll warm her good.' I crammed all the wood in the stove it would hold and opened the damper wide open. Got the house so hot it cracked the windows."
Peggy laughed, "You're familiar. You remind me of a man that does grading on the Bradshaw jobs at Linville Ridge."
He grinned, "You don't recognize me, do you?"
"No."
"I'm Ken."
"Ken!" Peggy's face reddened, "I didn't recognize you with your clothes on."
Ken's wife was not happy.
Ken laughed, "Honey, it's not what you're thinking. Every time Peggy's seen me, I've been in my old work coveralls. Don't reckon she knew how good I looked all cleaned up."
November 5, 2011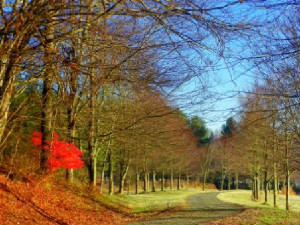 Morning sun crossing the drive
Picture from the web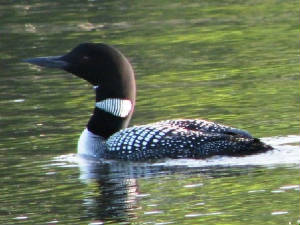 Loon
November 5, 2011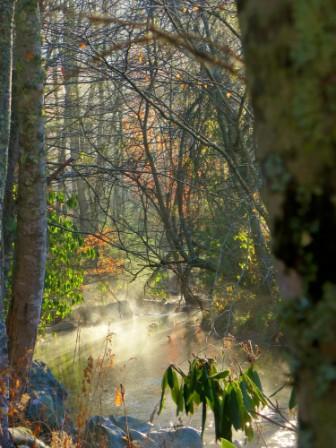 Morning mist at the Creek
November 10, 2011, The Nearsighted Loon
One spring Sunday afternoon, a few decades ago, a man showed up with a box.
"Are you Peggy?" he asked.
"Sure am," She answered.
"I called the vet. He said that you can take care of injured wild animals."
"What do you have," asked Peggy.
"A loon, but be careful about opening the box. I just got back from taking my wife to the hospital. She opened the box to see it, and it pecked her in the eye. When they asked me what happened, I told them and they didn't believe me."
"What did you tell them?" Peggy asked.
"I said a loon attacked her with a two foot long pecker."
Peggy laughed. "Loons aren't common around here. How'd you get it?"
"We were coming home from church and found it injured beside the road. The new paving was wet and it must have thought it was landing on water. We read that loons need water for take-off and landing. Looks like you've got a good place to keep it."
Peggy took the loon and nursed it back to health. She put it on the pond in front of the house and it spent the summer getting back in shape, flying from pond to pond. One day we came home and found it expired. It had crash-landed in the road.
"I'll miss it. I enjoyed its mournful cry," Peggy said, "and I'm sorry I didn't get its vision checked."
Peggy keeps me confounded. We were in the midst of a conversation this week and she says.
"You realize that just because I married you, I'm not as dumb as you thought."
October 29, 2011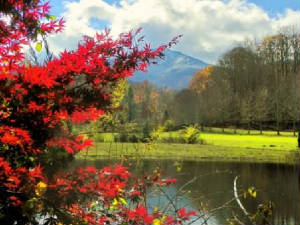 A little hoarfrost left on Grandfather Mountain
October 30, 2011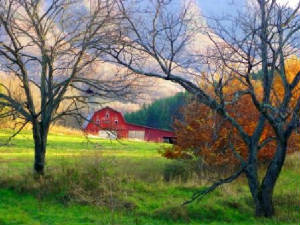 Uncle Elmer's barn across North Fork of New River from Sugar Tree Road
October 30, 2011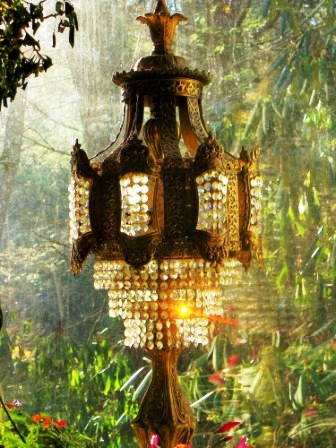 Halloween chandelier
October 30, 2011, Off to see the Wizard
This weekend we enjoyed going to the Poe family reunion. Everyone was leaving after eating a delicious covered dish dinner. Paul, Peggy's first cousin, and his family got in his car and were ready to go, but Paul couldn't find the car keys.
We asked, "What happened to your keys?"
"When we got here, I gave them to Allison, but she says she gave them back to me."
They looked everywhere, but didn't find Paul's keys. Allison, Paul's daughter, even called her aunt to come back, thinking she might have dropped them in the back of her car.
They had almost given up when Allison hollered, "We found Dad's keys, they were in the seat, under Mom's leg."
"That's a relief," Paul told Peggy. "Reminds me of something you might need to write in one of your books. Until a couple of months ago, I never understood how people could imagine things like in the Wizard of Oz. How could a writer think up such a story as a scarecrow needing a brain? Then it dawned on me — we could all use an extra brain at times."
Now, just how do you get to the Yellow Brick Road?
October 18. 2011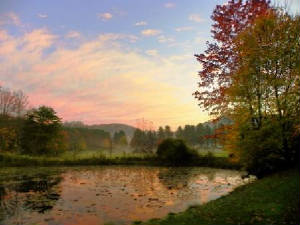 Fall morning
October 23, 2011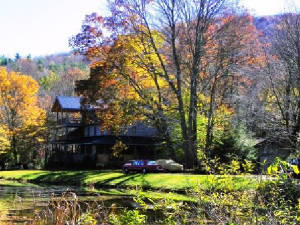 Peggy's place, Jack's subject matter
October 23, 2011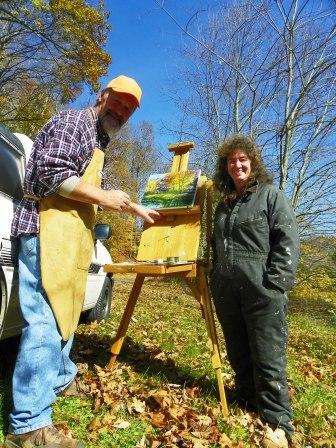 Jack Stern giving Peggy lessons in exchange for breakfast
October 22, 2011, Gonna bust Hell wide open
Last week our son, Brandon, brought his coworker, Joe, and Joe's father Jerry over to go fishing. Jerry grew up in West Virginia where his dad worked in the coalmines. Jerry was barely out of the truck before he and Peggy were swapping stories.
Joe said to Brandon, "I hope Dad isn't taking up too much of your mom's time. I know she always has lots of work to get done."
"Don't worry," Brandon replied. "Mom knows how to get rid of him when she wants to."
Here's one of the tales Jerry told Peggy.
"When I was about nine or ten, Dad got some pigs. He gave us, me and my younger brother, Jim, one each to raise. Well, everything was okay until hog killin' time came around. It didn't seem to bother Jim too bad when Dad shot his hog and its legs buckled, but when Dad slit the hog's throat, Jim went ballistic.
"Jim started screaming, 'You murdered my pig! You're a murderer! You're gonna bust Hell wide open!'
"Dad couldn't get Jim calmed down, so he sent him to the house. Jim went in the house hollering over and over again, 'Dad's a murderer, Dad's a murderer, he's gonna bust Hell wide open.'
"Had the women folks rather excited until they figured out what really happened.
"Jim finally settled down and we thought he was okay, until Sunday morning came. When we got to the church, the car had hardly stopped before Jim was out the door. He ran up to the preacher, hollering over and over again, 'Dad's a murderer, Dad's a murderer, he's gonna bust Hell wide open.'
"Dad had some explaining to do.
"Needless to say, once we got back home, Jim got the whipping of his life."
Check out some of Jack Stern's paintings at this website. His work is also displayed in our daughter's shop in Blowing Rock.
October 16, 2011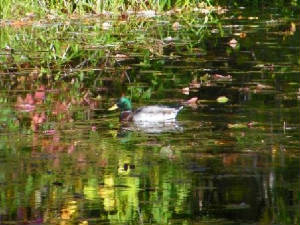 Mallard
October 12, 2011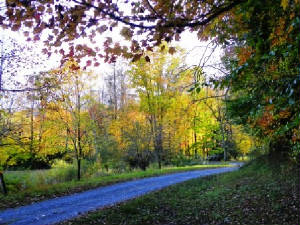 Coming in to the light
October 11, 2011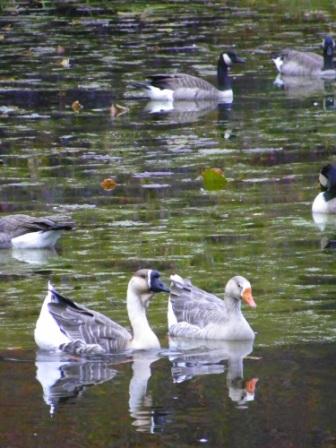 Domestic & Canadian Geese
October 16, 2011, Tongue tangled
This morning, Peggy said, "It's crisp out this morning. I'd sure like to smell some coffee perking on my wood cook stove. Only problem is you're going to have to build some shelves for the jars I canned this year. I can't get to the stove till I've got somewhere to move them."
"Uh oh, another project," I winced.
Mention of the wood cook stove reminded me of an incident Peggy tells.
If you're not from around here you might need to know, colloquially, we pronounce the 'ire' in fire or wire as 'ar'. We warm ourselves by a big roaring 'far'.
One year, when Peggy was a teenager, her Dad grew one of his bean patches on some of his own ground at the head of Sugar Tree Branch. In the summer, he got Peggy, her older sister, Shirley, and the neighbors to help pick the beans.
About eleven o'clock, Shirley got tired of picking beans and asked Dad, "Can I go on to the house and fix dinner for everybody?"
"That'll be good, we'll be on down about noon," he replied.
At noon, everyone went to the house to eat. When they got there, dinner wasn't ready.
"What's wrong? Why isn't dinner ready?" Dad asked Shirley.
Flustered, Shirley stammered, "I couldn't get the ole star farted."
The neighbors busted out laughing and pitched in to cook the noon dinner.
October 9, 2011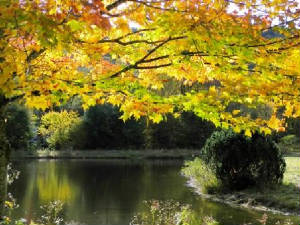 October morning
October 9, 2011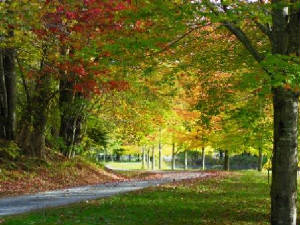 Autumn drive
October 9, 2011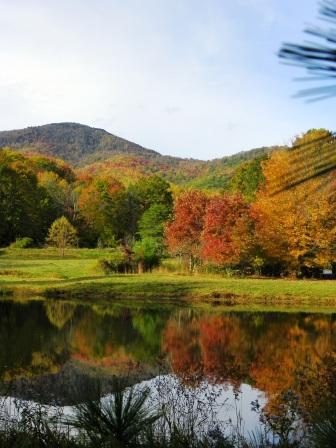 Autumn scene
October 9, 2011, Try, try, until you succeed
Living with Peggy through the years has introduced me to some interesting animals. In the late eighties she was discussing Canadian Geese with a client from the North Carolina coast.
"There's very few Canadian Geese that migrate here for the summer, I like to have some for our pond." Peggy said
An ardent animal lover too, Phil replied, "I'll bring you a young pair next year."
He brought her a pair the next year and Peggy put them on the pond with her domestic Geese. Phil had pinioned the Canadians and they spent the winter and raised several goslings the next spring. Peggy had an unmated domestic gander that fell in love with one of the Canadian gals. Come fall, the Canadians would practice flying from pond to pond getting ready for migration to the coast. The gander, too heavy for flight, would rush from pond to pond doing his best to try the flying thing, earning him the nickname 'Grounder'.
The following spring the Canadians returned. Grounder and the Canadian gal mated. In the late summer, the mixed goslings had no problem learning to fly. Grounder kept trying and finally could get in little short glides by running downhill. When their offspring gaggled up and migrated in the fall, his mate stayed and wintered here with him.
The next several seasons were repeats, but grounder was definitely getting better. Then one season, with the most determination you can imagine
, he got the hang of it. That fall he flew off with his mate and offspring. They've not returned. Maybe they took up with a different gaggle or retired at the coast. One thing for sure, thanks to Phil and Peggy, a lot more Canadian Geese enjoy migrating here and spending summer in the mountains.
October 2, 2011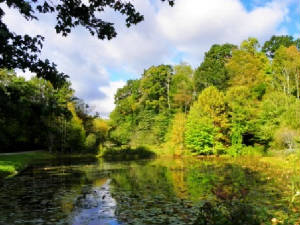 October morning
October 2, 2011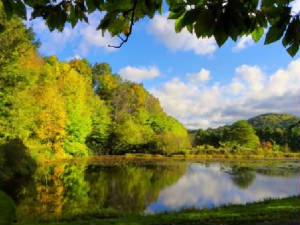 Looking like Fall
December 1990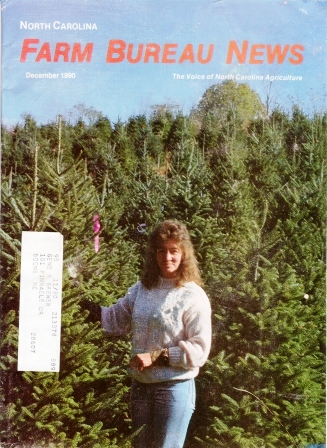 Outstanding in her field
October 3, 2011 Fancy stitches
Once, I needed the truck to go surveying, but Peggy had driven the truck to the upper tree field to shear her Christmas trees. I walked to get the truck. When Peggy saw me coming, she broke rhythm, made a miss-lick, and split her leg.
"Now, I'll have to take you to get sewn up," I said exasperated.
"No you won't," she snapped. "I'll sew it up myself."
"Let me carry you to the truck," I told her, trying to make up.
"I'll walk."
Overheated from the hard work, her cut bled profusely, and her boot was full of blood by the time she got to the house. The blood spilled out when she sat down in the floor and took the boot off.
I hunted up her numbing medicine, needle, suture, alcohol, and made a pot of hot, soapy water. Setting in the living room floor, in a bloody mess with her jeans off, she was about half-through stitching up the cut when a contractor client came by. Being the front door was open and he was a frequent visitor, he came inside. He turned a little pale when he saw Peggy in the floor surrounded by all that blood.
"What's going on?" Dave demanded.
"I cut myself shearing trees and I'm sewing it up." Peggy replied.
His mouth dropped open for a moment. "Let me take you to the hospital."
"No thanks, I'm just about finished."
"You beat all."
"Nope," Peggy told him. "I'm only saving time."
"You beat all."
A couple of days later his story of Peggy had spread. Dale, one of the Ag agents, called Peggy and said, "Why didn't you call my father-in-law? He would have driven clear across the county to help sew up your leg."
September 27, 2011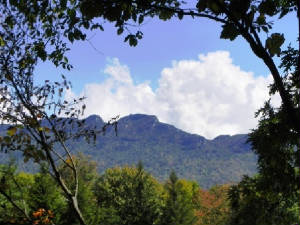 Grandfather Mountain from Flattop mountain
September 27, 2011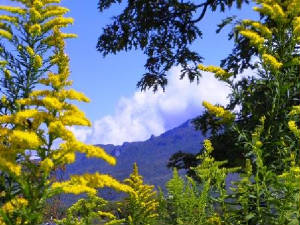 Hay stack rock on Grandfather Mountain
Painting by Peggy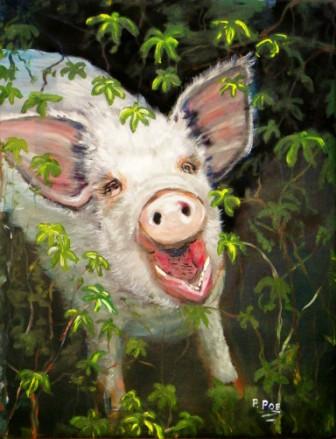 Sassy Sow
September 29, 2011, Tidbits
We were at the barn when Peggy asked, "David, will you clean out the sow's pen?"
"Only, if you watch my back. If her pig squeals, I'm toast," I replied.
Peggy got her trusty pitchfork.
Sure enough, the pig squealed. The sow charged, but Peggy stuck her pitchfork around me and poked the sow before her mouth latched onto my leg. We started backing to the gate. The sow kept charging at me, but seemed like I couldn't move because Peggy was behind me. Finally, I went ahead and backed up hard, pushing both of us through the gate.
"Why did you do that?" Peggy asked.
"I was too close to that sow for comfort."
"Why didn't you get behind me like I was trying to get you to do?"
"Too much pride," I replied.
Our three-year old great granddaughter was staring at the painting of the sow Peggy had painted for the cover of her new book 'Buck from Staggs Creek'.
"Grandmommy, how did you paint the pig?"
"We took a picture of my sow, and I used it as a guide,"
Noticing the forest background Peggy had added to the painting, Peyton asked, "Why did you turn it loose?"
Driving down the North Fork of New River, Peggy and Peyton were discussing the color of leaves and the animals they were passing when Peyton noticed something different.
"Why is fog coming out of the top of that house?" Peyton asked.
"That's not fog, that's smoke," Peggy replied.
"Why is smoke coming out of the house?"
"They have a fire in their stove."
"Why do they have a fire in their stove?"
"To stay warm and to cook their food," Peggy explained.
"Don't they have a microwave?"
Quote of the week:
Debbie, a kindred spirit with Peggy on raising animals, on taking some of Peggy's over population, "I don't need that many animals all at once. You do know what trouble I had finding this husband, I've got to break him in gently."
Courtsey http://blueridgeblog.blogs.com/blue_ridge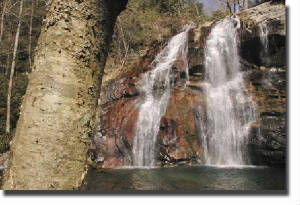 Dutch Creek Falls
From web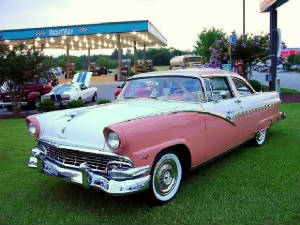 1956 Crown Victoria Ford
June 1964, from family album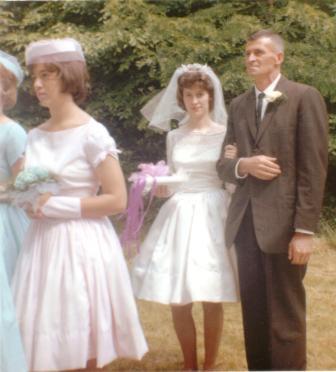 Peggy (on left) at Shirley's wedding
September 18, 2011, How we met, the rest of the story
Last week Steve commented on Peggy's Facebook wall about last week's story. "Loved the story David, but Peggy and I wrote that version...we are waiting on you to tell , 'the rest of the story'...lol"
Although I can remember the feelings, the details of the story are elusive.
James, my friend at Lees MacRae College, and I finished the two year program in 1963. James dated Peggy's older sister, and that summer I visited him almost every weekend, just to get a chance to be with Peggy. There was something special about her. Personality wise, we were opposites, but we fit. If you've ever met Peggy, you know she can have the shyest person in the world feeling comfortable, and telling stories about themselves with the twinkle of her eyes and the flash of her smile
Of course, when I found out her age, I was devastated. She had surely looked 'well grown' to me.
I said to her, "I can't date you. You're the age of my younger sister."
"Sure you can," Peggy replied. "Mountain girls grow up fast."
I later learned that Peggy had forbidden everyone, including her parents, to tell me her real age. Needless to say, by the next weekend, I was back courting her again.
Late that summer, I decided I'd like to study forestry at Oregon State. My brother and I rode our scooters out to Oregon, but I arrived too late and with no funds to attend the fall semester. I got a job and Roger joined the Army. After awhile, seeking more adventure, I worked at a ski resort on Mount Hood. I kept courting Peggy by mail. In the spring, I broke my leg skiing and headed back to Tennessee, glad to have an excuse to get back and see Peggy before someone else caught her eye.
James and Peggy's sister, Shirley, got married that summer. Peggy and I were like glue. Some years later, although it didn't happen that way, James commented, "I can't believe you and Peggy got married before Shirley and I did."
That fall, James and I attended East Tennessee State. Every weekend, I rode my scooter or borrowed a car to go to North Carolina and court Peggy. I had everything figured out: I would finish college, get a job, and then get married. During the winter, I kept noticing this flashy pink and white '56 Crown Victoria Ford with a bucket handle roof following us every time we went on a date
One Sunday afternoon, Peggy and I were going to Dutch Creek Falls. The '56 Ford showed up again.
"Who's that," I asked Peggy.
"Oh, that's just someone who helped Daddy farm."
"Why does he follow us around?"
"Ever since we met, he's been trying to court me.
"Why is he so persistent today?"
"He wants me to breakup with you and elope with him."
… The roar of the falls was deafening.
"Let's get married," I suddenly shouted, not sure she could hear me.
She did.
And we did.
Cheers to the ladies
Peggy raised small breed dogs for several years. Sometimes, despite Peggy's best efforts, the aging pets continue to proliferate. Debbie, the wife of a contractor whom we have done work with through the years, corresponded with Peggy this week. Her Yorkie was getting old and she inquired to see if Peggy had any puppies.
Debbie wrote: "Dan says N O … forty-five years … and he still thinks he can tell me not to get a dog…"
Thursday evening at the Mountain City Library event, Peggy got to talking with a lady. Before long, the lady was telling her life story — including how much she had regretted being in a situation of having to give up an animal. She said, "If I could of … I'd rather have sold the husband and kept the horse."
Getting ready to go milk and feed Friday morning, — after a hectic week of juggling farm chores, keeping great grandchildren, editing two new books, helping the sow farrow, and binding books for Thursday evening's event — Peggy looked around the kitchen and living room, and commented, "If I was lazy, I wouldn't have this big of a mess."
Talk about farrowing, Peggy had me up at 4:30 AM Thursday morning laying down beside the hog with my arm in her up to my shoulder clearing an obstruction. Today she looked at the sow's one live piglet, a tiny little fellow, and commented. "I named him scrawny," she said. "He reminds me of that man I call wormy."
September 10, 2011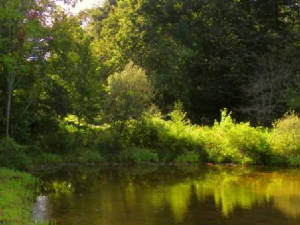 Late Summer evening
September 11, 2011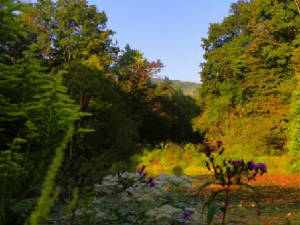 Late Summer morning
September 10, 2011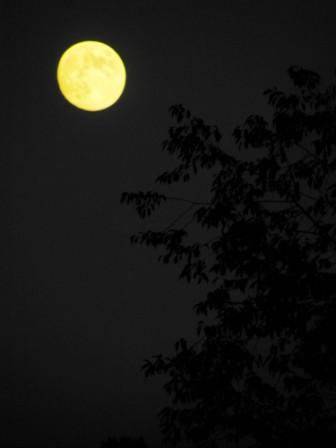 September Moon
September 11, 2011, How I met Peggy?
One fall, several years ago, Peggy was doing a signing at Black Bear Books. This fellow and his wife happened to come by and they struck up a friendship. Steve wasn't an avid reader, but ended up buying one of her books.
Last week, Peggy decided she would connect with some of her readers on Facebook. Here's some excerpts from her and Steve's conversation.
Peggy: …Hello Steve! It has been a long time since we connected. I was beginning to think you had given up reading and taken up cooking. Pictures of your food looks wonderful. Actually, I think I've written several books since we ate at the bread place in the mall.
Steve: …You may recall, that I did not read much up until I met you at Black Bear Books a couple years ago. I started reading your books, and I have been an avid reader ever since. It's your fault, and I have to say "thank you from the bottom of my heart"...I love to read now.
…the story I like best about you, is how you met your husband...I still get a chuckle thinking about that one…
Peggy: …By the way, my husband, David, is driving me batty asking what I told you about how we met. Could you jot him a few lines in answer to that? Thanks!
Steve: ...I haven't told anyone about how you guys met, but with your permission, hahaha... As I recall, Peggy, you were a rather young girl, way too young in fact for a college boy, but your sister's boyfriend was a college student and he came to visit one day and brought his friend, David along. …I believe you grew up very quickly that day and threatened bodily harm to anyone in your family that told David just how young you really were... lol... okay that's all I'm tellin'... David can fess up in his own story of Livin' with Peggy :)
Peggy: You have an excellent memory. Let's keep him guessing about the rest. :-)
You'll have to wait for the rest of the story. I'm still figuring. After all, it was fifty years ago… and everything must have turned out all right?
Some quotes from this week:
We were discussing how the sluggish economy was affecting us.
Peggy said, "If I make money before I die, I've got to speed up, or live longer, one"
We were discussing Peggy's farming.
She complained, "All I do is add more work to what I'm already doing"
September 3, 2011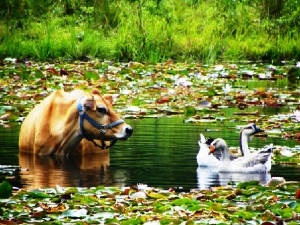 Socializing at the pond
September 3, 2011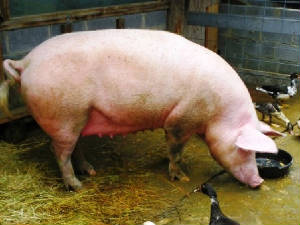 Some Ole Sow
September 3, 2011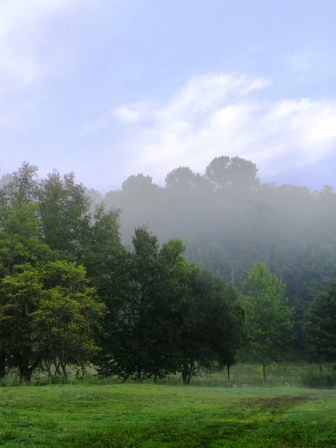 Rising Mist
September 4, 2011, The Boogey Lady
Visiting for Labor Day weekend, our oldest son and his family were at the barn looking at Peggy's animals when a storm started coming up. I got Trampas to put a tarp over the trailer of hay we had picked up earlier in Virginia. He got soaked and took his kids to the house to dry off. When we got back home after feeding and milking, the events reminded Peggy of a story. You'll just have to imagine Peggy gesturing as she told it.
It was a dark and stormy night once when our youngest son was still in high school. Peggy was at the barn doing some chores and I was working at the office.
She thought. 'If I just keep working, David will get concerned and come get me. That way, I won't get wet walking back to the house.'
She worked till about 11:00 and I hadn't come, so she fashioned a rain suit out of an empty dog food bag, make a lookie hole for her eyes, and started walking home. Just as she was getting home, she saw Caleb's car lights coming up the driveway.
'Oh shucks,' she thought, 'I wish I had been a little slower. I could have hid in the bushes and scared him… Maybe, I still can... If I hide behind the hemlock at the corner of the house, I can jump out when he comes along the path.'
So she hid in the hemlock, and when Caleb got to her, she stepped out in front of him.
"Ooh," Caleb shuttered, smacking at the apparition. 'Pop' the feed sack went every time he smacked at it.
"Ooh, ooh, ooh," he shuttered, backing up and smacking the sack with his hands. 'Pop, pop, pop.' "Ooh, ooh, ooh" 'Pop, pop, pop.
Peggy couldn't hold it any longer and burst out laughing.
"Mom… You scared me," he said with both relief and irritation… scooped her up in his arms and headed toward the pond, threatening to throw her in, but she was chuckling so hard, he didn't.
Quote for the week:
Peggy was looking at her hogs this morning determining when her other sow might farrow. I heard her comment to herself, "What I won't spend for a little entertainment."
August 28, 2011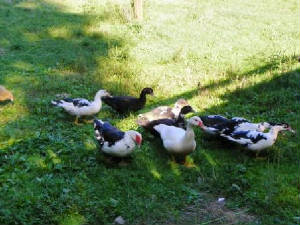 Young ducks
August 28, 2011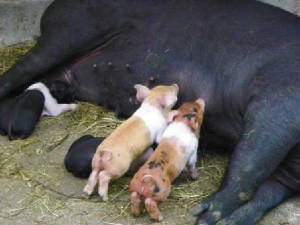 Piglets
August 22, 2011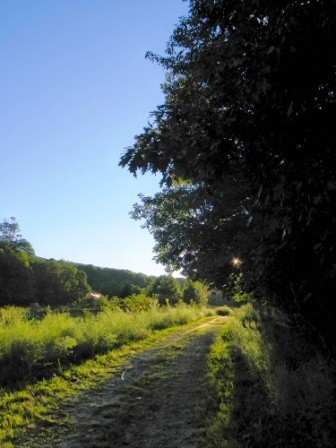 Vanishing point
August 28, 2011, A hankering for sausage and then…
Several weeks ago, Peggy got a craving for sausage. Most people would go to the store and buy some, but not Peggy. She decided she would grow her own. She went out and bought a pig. Problem was, she didn't have a pig lot ready.
She put the pig in one of the barn stalls and said, "David, fix those bottom boards so the pig can't get out."
"Yes, dear," I replied, and went to work removing some too short boards, Peggy had tacked up, to replace them with some long ones that could nailed at both ends.
A cloudburst came up. The pig got out as I was replacing the boards and ran through my legs and into the pasture. I chased after the pig, stepping into the mud losing a boot, but finally ran the pig back into the barn. Peggy helped me corral the pig and she had me put it into a small animal lot. I fished out my boot, finished repairing the stall, but Peggy said to leave the pig in the small lot.
On the weekend, some of the children, grandchildren and great grandchildren came by to see Peggy's new pig. They failed to latch the lot securely and the pig was gone with the wind. It came back around, but the cows chased it off.
Then Peggy got this idea. "David, I'm going to get another pig to entice Hamlet back to the barn."
"Surely not," I replied.
"Yeah, I think it's a good idea, don't you?"
"Uh oh, you've named the pig."
She got to talking with the local farmers and, instead of a pig she found a sow hog she wanted to get. By the time she finished trading, she had two sow hogs.
Well, the hogs didn't attract Hamlet back, and Peggy feared the coyotes had gotten him. Meanwhile one of the sows had piglets.
After Hamlet had been gone almost three weeks, a neighbor called, "Peggy will you come get this pig? It's rooting up my yard."
Seems that he had been baiting the pig, Hamlet, for two weeks and finally decided he couldn't catch him, so he called Peggy.
After a lot of unsuccessful chasing, Peggy determined that she would have to trap Hamlet. She borrowed a large cage trap from animal control, but Hamlet played Houdini, eating the bait and getting back out. However, she did catch an eleven-year-old boy.
One day, she sent our grandson to re-bait the trap. He discovered why the trap wasn't latching. So now, just because Peggy had a hankering for sausage, we once again have Hamlet, plus a sow with piglets and another sow ready to have piglets. Go figure. Maybe it's just 'life with Peggy'.
August 11, 2011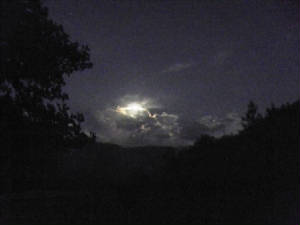 Moonglow
August 16, 2011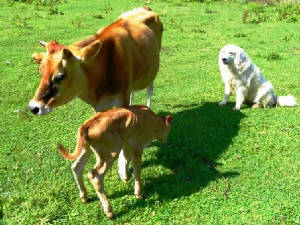 Daisy and new calf, Mazy
August 11, 2011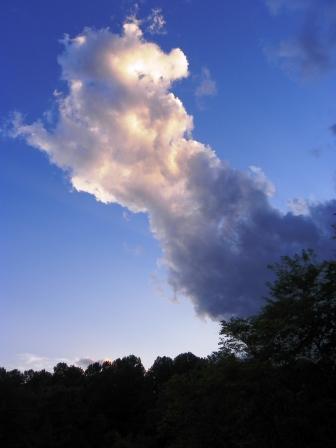 Evening glory
August 21, 2011, No good deed goes unpunished
One summer day when Peggy was about eleven years old, her mother was away working at Sprague Electric. Peggy decided to help out with the laundry. She built a fire in the wood cook stove, heated water, and washed all their clothes in the old wringer washing machine kept on the back porch.
Her mom always starched their dresses, so Peggy mixed some flour and water together and soaked the clothes needing starched before she hung them out on the clothesline. She thought her mother would be really pleased at her day's work.
When her mother came home, Peggy said, "Let me show you what I've done today."
She took her mother out to the clothesline.
Her mother took a look and burst out laughing, "Good lord, Peggy, you've ruined our clothes."
All the starched clothes were white and caked with the dried flour. Peggy had no idea the flour mixture had to be boiled until it turned clear.
Peggy had to rewash the clothes, but this time she did boil the flour and water together before she starched them.
August 11, 2011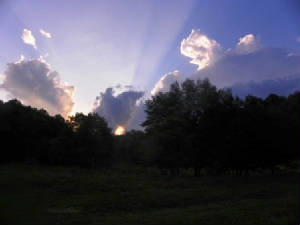 Evening calm before the storm
August 11, 2011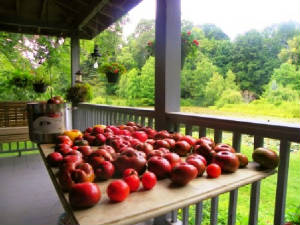 Peggy's tomatoes, ready for canning
August 11, 2011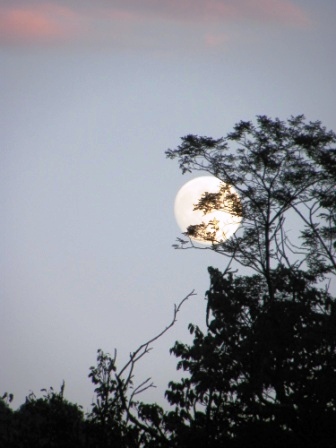 Moonrise, after the storm
August 14, 2011, What's Dad hollering for?
Last Monday Peggy got two full-grown sow hogs. On Wednesday she was canning and asked, "David will you do the feeding and milking at the barn this evening?"
"Sure," I replied. I figured if she is willing to grow an acre garden and can a thousand jars every year, it would not hurt for me to help her out a little.
After I fed the chickens, hogs, and calves, I was ready to milk, but the cow wasn't at the front barn door waiting to be let in. I went off to find the cow, walked around the barn, past the new hog lots along the side wall, and found her in back of the barn. She always comes when I holler, but she wouldn't budge. So, I tried to drive her around the barn. She would go as far as side corner of the barn and then run back. I tried several times, but she balked every time we got to the corner. I was getting frustrated and yelled at the cow to no avail. Finally, I realized the cow was afraid of the hogs and didn't want to go past them, or even get around the corner where she could smell them. I decided to go get Peggy (and her magic wand) to help.
When I got to the house, Peggy was grinning.
"What are you amused at?" I asked.
"After you left, Brandon came by to work on the Winter car. Then Caleb showed up. We heard hollering at the barn.
I asked Brandon, 'What's that noise?'
He said, 'It's just Dad, fussing at your animals.'
Then Caleb said, 'In all the time growing up, I never heard Dad cuss except when he was working with your animals.'
I told Caleb, "You weren't around all the time."
Needless to say, Peggy went to the barn and got the cow around the hogs – but Peggy still hasn't convinced the cow the hogs won't harm her.
8-8-2011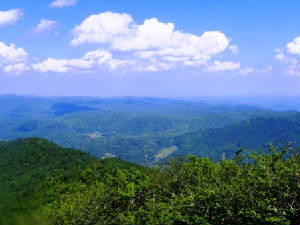 From Hanging Rock. Home is just to right of red blur
8-6-2011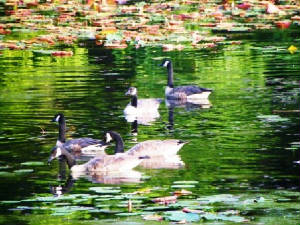 Canadian Gesse relaxing
August 8, 2011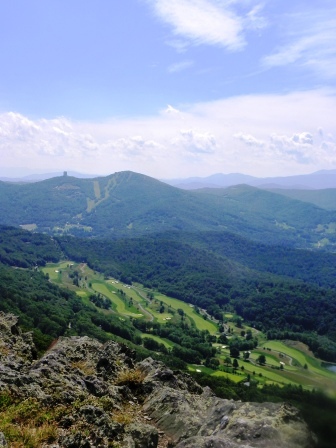 A golf course, a ski slope, a high rise, To the mountains' glory or demise?
August 9, 2011, The Red Bull
Peggy had me helping her build some hog lots and I didn't get a chance to write one of her stories this week. In Peggy's first novel, Heaven-high and Hell-deep, Laine tells the story about the red bull based on an incident Peggy experienced while growing up. Here is the story in Laine's words:
It was dark when Dad came home from the sawmill. He was leading a young, red bull up the road with a rope made up of several strands of twisted twine. I could not believe my eyes. The last thing in this world we needed was another mouth for me to feed.
"Did you buy that thing?" I asked none too kindly.
"Borrowed him from Abraham Miller. I'll graze him for a couple of months for his services. Abe raised him as a pet. He's as gentle as gentle ever comes. Abe said he was just like a dog."
"Dad, I've only got one cow left to breed and we don't have much grass left."
Winter was coming on and I sure didn't want to feed a bull. It would push me to have enough feed for our stock. Another animal was not what I needed unless he came with a haystack and a shock of corn.
"We'll manage. It hain't fittin for a girl to be goin across the hill," Dad turned his back on me and let the bull in with the cows.
I wanted to say it was just as fittin now as it had been for the past three years…
~~~
The morning sky had turned a rosy red with daylight by the time I got to the barn to start milking. Just like all the other mornings, that darned red bull was standing by the barn door determined to block my way inside. He knew I gave the cows ears of corn and he wanted his share, which I denied him. He liked to shake his head and paw the ground and do his best to butt me. Once he butted me against the barn.
This morning he was not in a good mood. He took his stand against the door and no matter how I yelled and kicked at him he would not move out of the way. I had to go through the cuttin room door then back out into the hall, then climb into the loft for the pitchfork. An ill-tempered bull was going to required a little persuading.
A couple of sharp jabs and he stopped trying to burst through the door and let the milk cows pass by him.
By the time milking was over, I felt like I fought with the bull more than I milked.
I had to fight this red bull twice a day. I only had to take the cow through the woods once a year…
~~~
When I got to the barn, the confounded red bull was pawing the ground and snorting. The last cow, the big Holstein, was bullin. She was riding around on the other five cows and putting up a fight against the bull. She wasn't quite ready to breed, and she wouldn't settle down until she was ready and it was over and done with.
I had added aggravation all because Dad brought in that red bull.
I laid my arms on the top rail of the gap and stood there looking at the mayhem. For one red copper I would leave the bunch of them unmilked. I knew I wouldn't get one red copper, and if I didn't milk them, Momma wouldn't get one red copper either.
I left the gap and went in through the cuttin room door and climbed in the loft to get the pitchfork. I would need persuasion to get the bull and cows separated long enough to milk.
I opened the door and stuck my head out to see if I could let a cow in and saw Dad standing not three feet in front of the door. He had his back to me and was watching the bull and cows. He turned at the sound of me opening the door.
"You wanta help me get em in?" I asked Dad.
"Can if you want me to."
"I want you to. That old bull is mean as a striped snake. He gives me a fit every time he thinks I'm not watching,"
Dad gave me a funny look and frowned. "Why, that bull hain't mean. He's nothing but a pet. Abraham raised him. It's natural for him to be a little excited since the cow's bullin."
"He's a little excited when they're not bullin, too. I have to keep the pitchfork handy or at least a keen hickory to switch his ears with. He don't like to have his ears switched."
Dad looked at me for a minute. "You switch his ears?"
"When he tries to get in the barn instead of lettin me get the cows in. He tries to fight me all the time, but I know how to handle him. That nose of his is a tender spot, and he can't stand havin his ears poked with the pitchfork any more than he can a keen hickory."
"I reckon not," Dad said as the red bull came to the barn door.
He knew I would be putting out feed to milk the cows with and he was ready to go after it. I pointed my pitchfork at him to head him off.
"You don't need that, Laine. You're afraid of him for no reason. He's as gentle as a kitten," Dad scolded me gently. "See. I'll show you."
Dad took a few steps away from me to the bull, reached out his hand and began to scratch the bull between his horns. The bull lowered his head, moved it from side to side in what looked like pure enjoyment. He then moved his head up and down against Dads scratching fingers.
"See that? He just wants his ole head scratched and a little pettin."
"He might be wantin pettin from you, but he wants to fight with me," I told Dad warningly. "I don't trust that red bull as far as I can pick him up and throw him. You'd better not either."
Dad chuckled at me. "I never thought you'd be afraid of a pet bull."
"It's not that I'm afraid of him. I just don't trust him. I have to milk with that son-of-a-gun twice a day. I know what he can do."
Dad shook his head and grinned like I was being a silly girl. He opened his mouth to say something but only an 'uhhh' came out. The bull's big curly head was against the pit of Dad's stomach as he lifted Dad's feet off the ground. He made a mad rush forward, taking Dad flying through the air. Dad grabbed a stubby horn in each hand. His legs moved in rapid motion as though he was running in the air. Dad hung on until the bull decided it was time to butt Dad into the ground. He lowered his head and slammed Dad against the ground with a force that knocked the breath out of him.
Dad should have been glad I had the pitchfork in my hand and was young and quick as a racer black snake. I had the sharp tines of the pitchfork in the side of the bull's neck about the time Dad hit the ground. He gave Dad one firm butt then whirled on me. I jabbed a tine into his soft nose.
The bull bellowed and shook his head. He pawed up dirt with one front foot, then the other.
"Haa!" I yelled. "Haa! Get back!" I swarped a tender ear with the tines, then swarped the other ear. The bull backed up a step, looked at the pitchfork and considered another attack.
I jabbed his nose.
The bull snorted, turned around and walked away as though nothing had happened.
Dad was on his feet with his eyes wide and his mouth hanging open. He rushed to me in a bent position and grabbed the pitchfork out of my hands.
"My God!" he said breathing hard, "Get in tha' barn quick! He's dangerous!"
My mouth must have hung open too, when Dad said that. The bull had already walked away. I had driven him back much like I had done a dozen times before.
"He'll behave for a while now. He don't like the pitchfork, especially on his ears." I said.
Dad didn't seem to hear me as he grabbed my arm and dragged me into the barn hall.
"Did he hurt you?" I asked Dad after he had slammed the door shut.
Dad took a couple of deep breaths. "No. Reckon not. Damned bull coulda killed me."
"Why, he's just a pet," I said.
"He's a damned mean pet!" Dad rubbed his stomach. "Has he acted that way before?"
"He tries to get me just about every day, but I won't let him. He respects the pitchfork."
Dad looked at me like I was crazy. "You're tellin me he tries to fight you?"
I reckon Dad was either hard of hearing or never listened to what I told him.
"Since the day you brought him home. He slammed me against the barn door once."
"You're saying that you, a hundred pound girl, has been fighting with a seven hundred pound bull?"
"I've been whippin the piss outta him almost every day."
Dad was silent for a full two minutes before he spoke.
"I'll go by Abraham Millers tomorrow. He can come up here and help get that bull back home. It's a wonder he hain't killed you long before now."
I thought about telling Dad it was him the bull nearly killed. But I didn't say a thing for the cow would be bred by tomorrow and the bull would be gone.
Dad stood guard with the pitchfork while I did up the work that night, and then again the next morning, then he headed down the road to get Abraham Miller.
I was lying in the barn loft in the hay waiting on Dad and Abraham Miller when they showed up. I wanted to see what would happen when they tried to tie a rope around that bull's neck, and I knew Dad would run me back to the house if he saw me. Dad always ran me to the house when men came around the barn.
Years had put a lot of weight on Abraham Miller and taken hair away from his shiny round head. I'd seen more hair in squirrel gravy than he had, but there was a jolly way about him. I watched him and wondered about the education he had that made him better off than most folks. If I ever got a chance, I'd ask him what education had taught him. Right now I wanted to see how his education helped him handle his pet bull.
"That bull don't look mean to me," Abraham said to Dad.
"I didn't think he had a mean bone in him, till he danged near killed me."
"Say that girl of yours saved you?" Abraham asked with a big grin on his face.
"She shore did. I'd been a goner if it weren't for her. He had me on the ground with his head in my belly with those stub horns pokin when she took the pitchfork to him."
"I've heard that girl is something else," Abraham said. "The way Eula talks about her, you'd think she could walk on water." Abraham leaned against the barn and looked at the cows and bull lying in the barnyard chewing their cuds. "That little gal is the one that does the milking isn't she? Hasn't the bull bothered her?"
"She said he slammed her against the barn once but she whupped the piss outta him. I'd put my money on that gal of mine if she was fightin a grizzly bear." Dad spat at the base of a fence post and reared back. "Reminds me of my own momma, that girl of mine."
"I know you're telling the truth. There's not a man alive would say a little girl beat a bull off him unless she did it," Abraham chuckled. "Reckon we'll have to get her to help us get him back home?"
"I told her she was to stay away from that bull," Dad said. "I lost one youngun to bees. I don't want to lose another to a bull."
Abraham hung his round head and looked at his feet. "I knew he would butt a little, but I thought it was all playful like. I'd never let you bring him here if I'd known he'd go beyond playful. I'm just glad he never hurt her or you."
"No harm's been done yet."
Abraham pushed his cap onto the very back of his bald head and scratched his shiny dome. "Let's get a bucket of corn and put a couple of ropes on him. Between the two of us we may be able to get him back home without any problem."
They didn't have any trouble getting him to eat the corn and getting the ropes around his neck, but that was as far as they were getting. The bull liked where he was and didn't want to leave the cows.
"I guess I'll have to get the pitchfork," Dad said and dropped the end of his rope. "Laine said he respected it."
"Hurry back. I don't want him to think I'm you. You might not be able to whip the piss outta him like your girl did." Abraham chuckled again and I wondered if he would be chuckling by the time he got that confounded bull home.
It was nearly dark when Dad came up the road with his feet dragging and two ropes dangling in his hands. He had never looked quite that tired when he came home from the sawmill.
"Did you have any trouble?" I asked him.
A faint grin touched Dad's lips.
"You know, a fat man rolls when he falls down."
July 31, 2011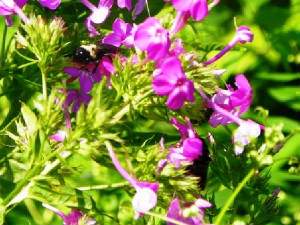 Bees working the phlox
July 31, 2011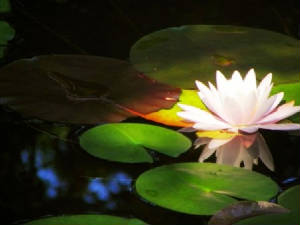 A spot in the sun
July 30, 2011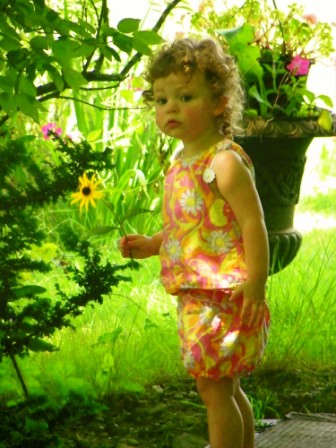 Granddaughter Lila with a black eyed susan
July 31, 2011, Don't remember me, do you?
A few years ago, Peggy went into Watauga Building supply to get some tin for the roof of her barn.
The clerk grinned, "You don't remember me, do you?"
Puzzled, Peggy asked, "No, should I?"
"Yeah, you should," he replied. "You threatened to cut my head off with a shearing knife."
Peggy thought the man was joking with her. "I did what?"
"You held me hostage."
"Oh," she remembered. "You're the smartassed hunter?"
"Yep, I'll never forget it."
The summer Peggy raised the fawns for the wildlife service, Peggy was in the field shearing hemlock trees. She heard a pack of hunting dogs chasing something and the baby deer ran in behind her for protection. The next thing she knew, dogs and five hunters with guns showed up. Aggravated, swinging her shearing knife, she faced the hunters.
"Drop your guns and get your dogs." She demanded, "They're after my deer."
The hunters dropped their guns. Four of them started getting their dogs.
One hunter stood with his hands up in the air grinning. "Sorry," he said. "We didn't know you had pet deer. We were rabbit hunting."
"I don't want you rabbit hunting either," Peggy snapped.
"Yes ma'm."
The four other hunters rounded up the dogs.
Still grinning, the one hunter, the clerk in the store, asked. "Can I put my hands down now and get my gun … if I promise to behave?"
July 18, 2011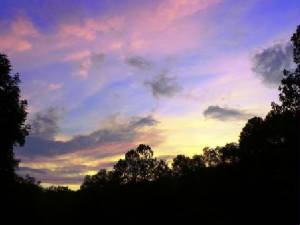 Sunset reflections
July 24, 2011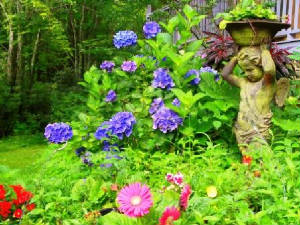 Cherub enjoying Peggy's flowers
July 23, 2011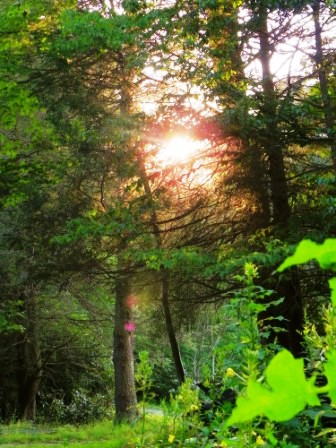 Evening sun filtering through the trees
July 24, 2011, Careful what you promise
Peggy loves raising animals. Back in the Eighties, Peggy grew Christmas trees and sold them in Naples, Florida. On her trips to get permits for the sales lot, she enjoyed breaking up the drive by stopping at Toms' Zoo just south of Rutherfordton.
One night when she got back from one of her trips, she was all excited.
"David, their Black Bear had so many cubs she can't take care of all of them. Since I have a wildlife permit, Whitey Toms offered to let me have one of the cubs. Can I go back and get it?"
Didn't take me long to respond, "No, it will grow up. Then what will we do with it?"
"It'll make a nice pet." she told me. "The children will love it."
I figured I had better get Peggy's mind off a pet bear in a hurry. "Tell you what. If you won't get the bear, you can have as many other animals as you want."
She took me up on the offer. We've been overwhelmed ever since.
When she was growing up, Peggy's dad got himself in a fix too. Peggy went to the barn to do the feeding. Reaching into the feedbag, she got hold of something furry. It was a huge rat. Must have scared the rat more than Peggy. The rat jumped straight up out of the bag and landed in a trap her cousin had set. The trap sprung. Knocked the rat out cold. Peggy got the rat and put it in a shoebox while she fed.
When she was done, she looked in the box and saw the rat was starting to come around. 'Good,' she thought, 'I've got me a nice pet,' and took it back to the house.
"What've you got in the box?" her dad asked. He and her mother were sitting on the couch.
"I caught me a full-grown rat," she beamed.
"How did you catch it?" Glen asked.
"With my hand. Can I keep it for a pet?"
"If you've got a full-grown rat in that box, you can keep it," Glen grinned, thinking his little daughter had exaggerated considerable.
"Can I keep it in the house?"
"If you've got a full grown rat in that box," he repeated. "You can keep it in the house. Let me see it."
"Promise I can keep it?"
"Promise," he said, and Peggy handed him the shoebox.
"Be careful, don't let it loose." Peggy warned. "It's a big one."
Still thinking Peggy had exaggerated, Glen took the lid off.
All hell broke loose!
Peggy's mother was terrified of rats.
The revived rat jumped straight up again and landed in her mother's lap. She went ballistic!
Lois screamed, "kill it, Glen, kill it," She jumped up, dumping the rat in the floor, grabbed the broom, and chased it around the room still screaming as she tried to kill it.
Peggy hollered, "don't hurt my rat, don't hurt my rat," and got between her mother and the rat, which was now trying to climb the wall.
Glen burst out laughing.
Peggy got the rat cornered and back into the box.
"I told you not to let my rat loose," she told her dad. "I'll put it in the old bird cage."
"You can't keep that rat in here," Lois screeched.
"Daddy said I could," Peggy argued.
"That was before I knew 'it really was a full grown rat,'" Glen said as he wiped tears of laughter from his eyes.
"I told you it was," Peggy delicately pointed out.
"Doesn't matter."
"You promised,"
"That doesn't matter either."
It mattered to Peggy.
July 17, 2011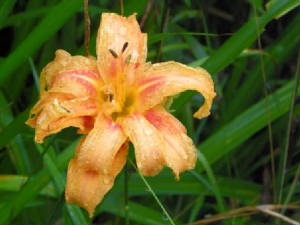 Day Lily in the rain
July 17, 2011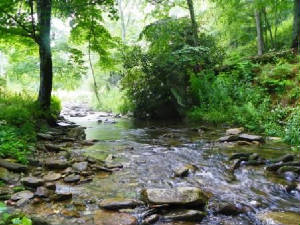 Moody Mill Creek going in a rush to the Gulf of Mexico
July 17, 2011 Morrison Library at Newland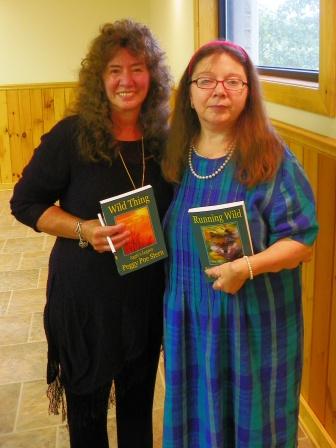 Wild ones, Peggy & Tammy
July 17, 2011, Two more stories from the bean patch
During the summers when she was in high school, Peggy would help her dad in the bean patch. He rented about ten acres of cropland down by the river. Come bean-picking time, a group of workers from Whitetop Mountain would come down and help pick beans.
One hot day Peggy was picking with the women from Whitetop. It got hot up in the day and everyone was dripping with sweat.
One woman said, "It's so hot, I'm beginning to stink, wish I had some fresh clothes."
Another woman hollered, "I know how to fix that."
"How?" said the first woman.
"Just watch."
She peeled her tee shirt off, turned it wrong side out, pulled it back on, and sniffed.
"Clean clothes sure do smell good!" she said, and went back to picking beans.
Peggy grew up with Price, a neighbor fellow that helped her dad with the farming. Price knew Peggy's red-hot temperament as well as her defensive capabilities. I've heard different parts of this story from both Peggy and Price, so here goes.
One other day at the bean patch, Price thought he would have a little fun. One ole boy had a bad reputation of taking liberties with the girls.
Price noticed this lugger, the guys who took empty bushel hampers out to the pickers and carried the full hampers back, had his eyes on Peggy. The lugger came back to the truck with a full hamper when Peggy hollered hers was full.
Price told the young man, "When you take the hamper out to that girl, be sure to romance her a little. She'll like it."
"But she's the boss's daughter."
"Don't matter, go fer it." Price egged him on.
When he tried to feel her up, Peggy's temper flared. She kneed the guy, slugged him up the side of his head, knocked him over the top of her full hamper, and spilled her hard picked beans, which maddened her even more. While he was still on the ground, she nailed him in the head with a rock and continued rocking him as she chased him out of the bean field.
With each rock hitting its mark, he hollered, "Damn you, Price!"
Not far away, hidden in the pole bean vines, Price was sniggering.
Price had to lug Peggy's beans the rest of the day because Peggy wouldn't allow the boy in rock-throwing distance.
Back when Price told me his side of the story, he said. "If Peggy's dad had planted beans in rockier ground, the lugger would have been a goner by the time he reached the end of the row." Then he added. "That girl's hard to handle."
I grinned, "You don't have to remind me."
July 10, 2011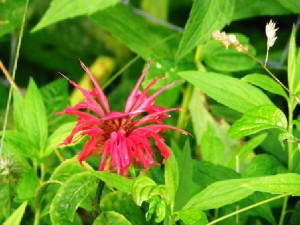 Bee Balm
July 10, 2011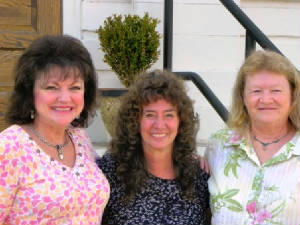 Three kindred readers at Bakersville: Mary, Peggy, & JoAnn
July 4, 2011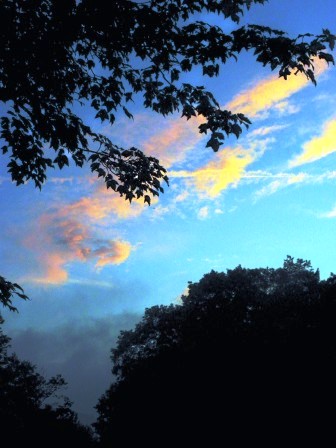 Fourth of July evening
July 10, 2011, Shopping expertise
This week, as we were returning from a short trip, Peggy said, "Let's go by Newland to get our groceries. I like the store on Smoky Straight. The locals use it."
"I was thinking the same thing," I replied. "The store at Linville Gap caters to the summer folks. Must have more overhead stocking fancy food and beverages, cause the prices are twenty percent higher."
While I was putting up the cart, a friendly voice said, "Hi David, I've not seen you all in forever."
"Well, hello Kay. How're you and Gene? Don't see much of you all since you moved to Avery County."
We got to talking, catching up on things since the last time we ran into each other. Peggy and Kay then decided we should go by and see the new home Gene and Kay built.
"Kay said, "I'm on my way home now, but I've got to stop by the Dollar General and get some salve for the dog, first."
"Good," Peggy said, "I have to get some Cherrios. They're cheaper at the Dollar store."
On the way into the store, Peggy grabbed a cart.
"Why are you getting a cart?" I asked. "Thought you only needed some cereal."
"It'll make it easier," Peggy replied.
By the time Kay got her salve and checked out, Peggy was at the counter with a fully loaded cart.
"How'd you get your cart filled so fast?" Kay asked Peggy.
"Doesn't take me long to pick things out," Peggy replied.
"That's why she got stuck with me," I chuckled.
Peggy grinned. "Yes, and I've been paying for it ever since."
July 2, 2011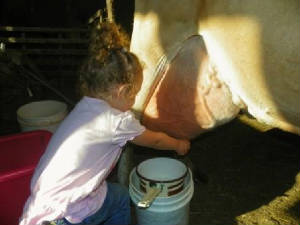 2 1/2 yr. old Great Granddaughter showing her expertise during Peggy's morning class, Milkmaid 101
July 2, 2011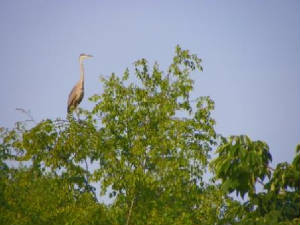 Tourist that comes up every summer when it's too hot at the beach
July 3, 2011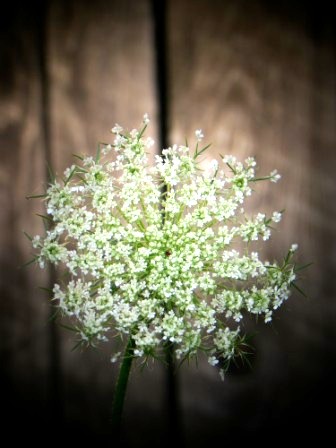 Queen Ann's lace
July 3, 2011, Life on the farm
Peggy has an enthusiasm for life and all of the projects she should be able to accomplish every day. In the early Seventies, she was trying to do all the farming and take care of four small children. It wasn't unusual to see her with a baby on her back in a snuggly and one sitting on her lap as she plowed or cultivated with the tractor.
One hectic day, she was having trouble getting everything done. Trampas, our oldest boy, about four at the time, looked up at her and noticed her stressing.
"Mom," he asked, "Do you need Calgon to take you away?"
Peggy laughed, "Son, you've been watching too much television."
https://www.youtube.com/watch?v=MVLzkTuVmrw
Well, Peggy still thinks she can do more than is humanly possible. Probably is why she has to take medicine for high blood pressure.
This week, our oldest daughter was over, stocking up on milk and eggs.
Peggy was complaining, "Although, I cut my medicine in half, it makes me feel slow and unable to accomplish all I want to do."
Tonda chuckled, "Mom, perhaps, you're just becoming normal."
Peggy has had one of her backup cars in storage for a while. Our youngest son came over and had worked on the car for about fifteen minutes when Peggy called him in for lunch.
While he was eating with us, Caleb said. "Mom, I got you car running."
Peggy asked, "Have you got everything else fixed and ready for me to get it inspected?"
"Sorry," he replied, "I'm afraid my magic wand is broken. I'll have to borrow yours"
June 26, 2011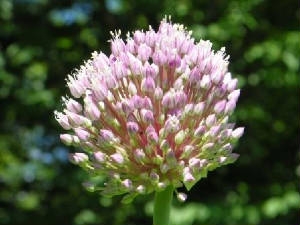 Garlic bloom; getting ready for the Fourth of July
June 26, 2011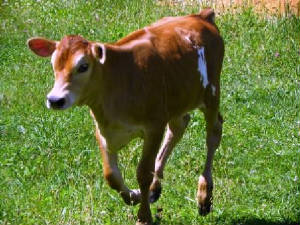 Maybelle on the run
June 26, 2011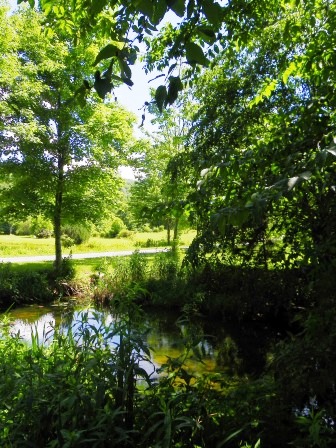 A shady spot
June 26, 2011, Real fiction
Some years back, just after Peggy wrote her first book, Heaven-high and Hell-deep, a summertime neighbor from Miami Florida came by.
"I hear you've written a novel. Could I buy one?" Roger asked.
"Sure," Peggy said. Being he was an English teacher, she was apprehensive about him finding all her mistakes.
A week later, Roger called. "I enjoyed your book," he said, "but I have one question."
"What's that? Peggy asked, as all sorts of scenarios an English teacher might ask concerning her writing ability ran through her mind.
"Just how much money was in that jar?"
Peggy was stunned. Of all the questions, she thought Roger would ask, this wasn't one of them.
"The one Laine found in the can-house?"
"Right, that one"
Peggy hesitated for only a moment and then said, "I don't know. She didn't tell me."
"Oh," Roger replied, satisfied with the answer.
6/19/2011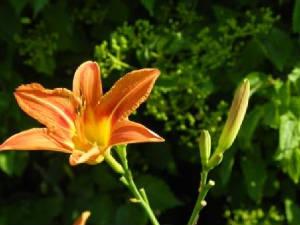 Daylilly
6/19/2011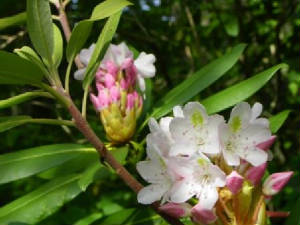 Rododendron Maximum, locally known as Laurel
6/19/2011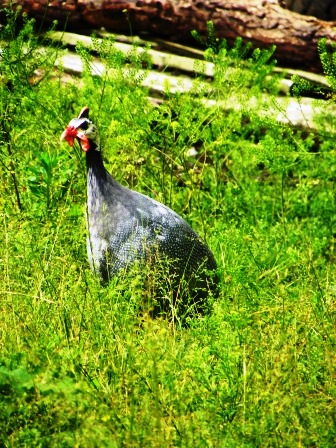 Burgular alarm, A Guinea Fowl
June 19, 2011, The Story-catcher
No matter, where she goes, Peggy always has a knack for meeting people who tell her a story. Yesterday, we took the Jersey bull to the cattle sale in Abington, Virginia. Our great granddaughter went with us. Peggy watched the auction while Peyton and I roamed around outside. When we were going home, Peggy related this story from a cattleman she sat beside during the auction.
"When I was growing up my mom always churned butter. One time the butter wouldn't come, no matter how hard she churned.
"She went to the neighbors and asked the old granny woman, 'Do you know why the butter won't come.'
"The granny woman replied, 'Your milk has been witched.'
'Witched? How can I fix that?'
'You need to put a fifty cent piece in the milk when you churn.'
"Well, mom never did get to see if that worked. We didn't have fifty pennies to could scrape together, let alone a half a dollar coin.
"We weren't poor, we just didn't have money. You know, we had everything we needed, and we sure ate mighty good back then."
Thank goodness, Peggy left the cattle auction with only stories. She refrained from taking another bull home.
On the way home, Peggy leaned back in the truck seat and said, "My cow produces almost six gallons of milk a day. Her calf and I sure get to drink good."
6-12-2011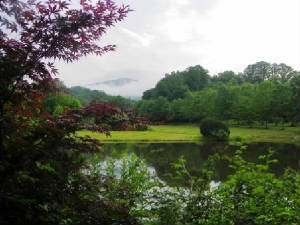 Evening mist
6-12-2011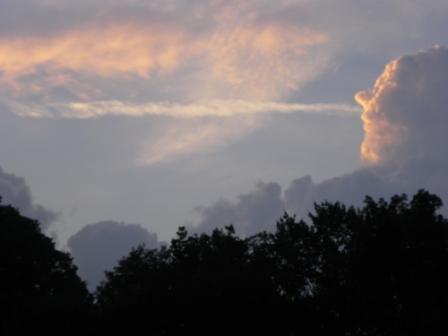 Evening sky
6-12-2011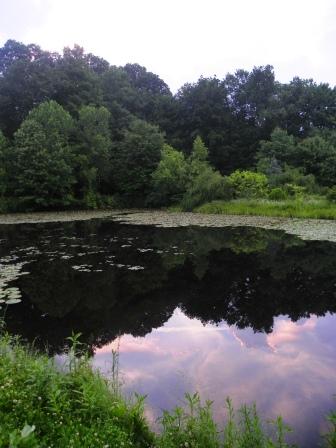 Evening reflection
June 12, 2011, Strange compliment
To assist Peggy in marketing her books, I sometimes use web search tools for Peggy's name. This helps determine what her readers feel about her work, and how she might better entertain them. Last weekend Peggy participated in the annual Avery County Heritage Day. It had been advertised one of our famous Appalachian authors would be attending. However, the author didn't attend. One of her fans wrote on the author's Facebook wall.
"Sorry you couldn't be in Avery County today. I spoke with Michael Hardy. I met Peggy Poe Stern. She had copies of all her novels. She is so easy to talk to. Do you know her works? Very captivating."
The author responded. "I had a prior engagement, and I told them so two months ago. I offered to come to Newland in the fall when I'll be on tour with the new book, but your librarian said "No, thanks." So... I give up."
The author's response gave no comment to the fan's actual question, "Do you know her works?"
Some years ago, Peggy decided if she was going to write, she needed to learn all she could to write better. The famous Appalachian author had given a presentation at Peggy's local writers group and Peggy learned she was going to be teaching a weeklong seminar at an out of state writer's conference. Peggy saved up the six hundred dollars and attended the conference as they advertised she would also get a thirty-minute personal critique session with the author instructor.
Excited about getting some feedback from a well-known author, Peggy sent in an excerpt from Heaven-high and Hell-deep and went to the conference.
When her session time came up, the author met with her and started with, "I have no comment about your work."
Peggy was stunned. "What do you mean? "
"I mean I have no comment."
"Is it that terrible? Is there not anything I can do to make it better?"
"I have no comment," she continued.
Peggy spent the next five minutes asking questions, but getting the same answer.
"I have no comment."
Peggy was frustrated with the author's lack of comment, not to mention Peggy's waste of time and money.
She called me that evening and asked, "David, what do you think of that?"
I replied, "I have no comment."
Not a good answer.
This morning, we were deciding whether to post this incident. She said, "I guess it best to think the author complimented my work."
June 1, 2011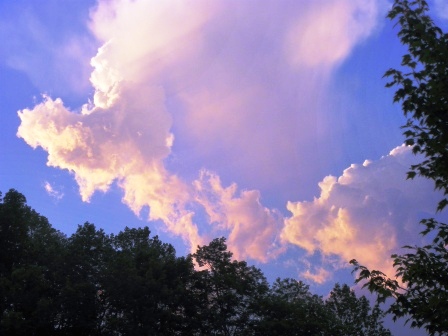 Evening Clouds
June 5, 2011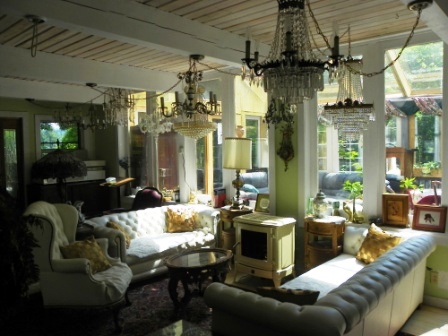 Peggy's couches
June 5, 2011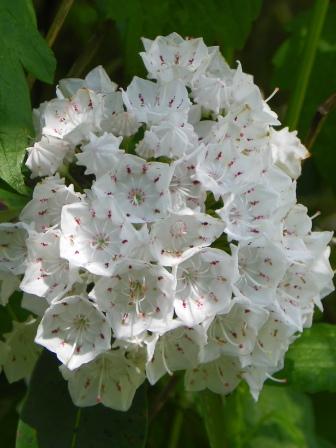 Mountian Laurel (Kalmia) bloom
June 5, 2011, The Couch
After the first season that Peggy sold Christmas Trees in Florida, she bought some horses, but that's another story. The second year she decided we needed a couch for the living room. Peggy knew exactly what she wanted and how much she was willing to pay. It had to be leather, so it would last the rest of our lives, and light in color, she wanted to brighten up the room. After looking around, she couldn't find anything that fit her budget, so she got a couch, love seat, and side chair custom made by a craftsman in Granite Falls.
About twenty years later, I came up from the office and walked through the living room to go outside. Peggy was setting on the couch.
"What's wrong?" I asked.
She gave me a puzzled look. "What are you talking about?"
"Are you sick?" I asked.
"No," she replied.
"You sure you're not feeling bad?"
"No, what makes you ask something like that?"
"Why are you setting on the couch? I've never seen you sitting down before."
"I was just walking through the house," she said, "saw the couch and wondered if it was comfortable to sit on."
Makes sense.
In the forty-six years Peggy and I have been married, I seldom saw her in a sitting position until after she started writing novels. Now, unwilling, she sits in front of a computer for hours at a time — a real feat for a woman who took over twenty years to sit on her new couch.
Sometimes, she'll even join me on the porch in a rocking chair, but she has a ten minute limit.
"Time's a wastin'," she'll say; " I'm not gettin' any younger."
May 29, 2011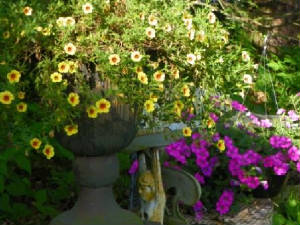 Peggy's Mayflowers
May 29, 2011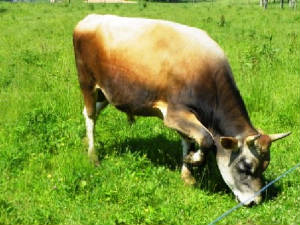 Jersey Bull, For Sale (once he's done with his Spring chores)
May 29, 2011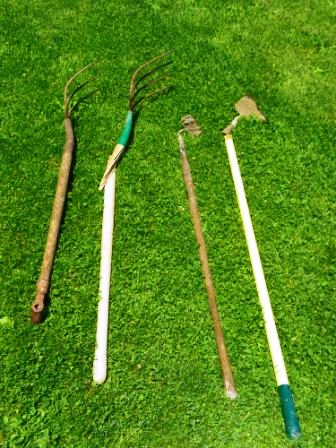 Priceless old tools, Peggy's favorites. Cheap new tools, rendered useless by Jim-bob
May 29, 2011, Wrong tool for the job
Wednesday morning, Peggy and I started toward the barn to do the milking and morning chores. Jim-bob, our Jersey bull, had busted through the fence. He and the cows were out. We herded them toward the barn.
Peggy said, "You need to finish putting the strand of electric fence wire around the rest of the pasture."
"Okay," I replied, "but you'll have to let the bull graze around the barn while I do it. I'm not working where he can aggravate me."
We were putting insulators on the posts and stringing wire, when Peggy said, "Go ahead and finish, I thought I heard the bull bellow up on the ridge between here and the road. I'll take the golf cart and make sure the cows don't bother the neighbors."
May 29, 2011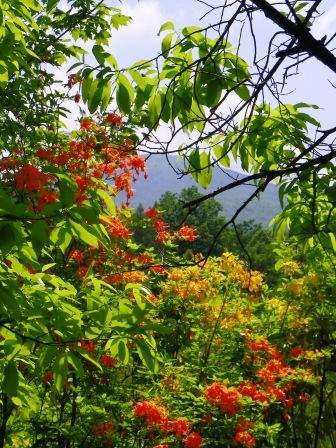 Flame Azaleas
On the way, Peggy met up with Doug, our son-in-law, who had volunteered that morning to clear off an old tree patch for a new orchard.
"Need help?" he asked.
"Probably," she said.
Jim-bob had met the neighbor's cattle, was likely thinking how he could steal the cows away from the other bull, and wasn't interested in going back to the barn.
"You'll have to swarp him hard," Peggy told Doug as he took a garden hoe from the golf cart.
Peggy was rounding up the cows. Doug was trying to get the bull headed up our driveway, but he would only go in reverse. Jim-bob kept his head lowered as he was backing up from Doug's hoe action. When Doug let his hoe get close the ground. Jim-bob made his move, lunged forward, snapped the hoe handle, caught Doug on his horns, and flipped him in the air like a rag doll.
Instantly, Peggy was between Doug and the bull with her pitchfork, managing to keep the bull off Doug.
"Are you okay?" Peggy asked, still fighting with the three quarter-ton of angry Jersey bull, unable to check on Doug as he lay on the ground.
He groaned as air entered his lungs. "Oh, that hurt," he slowly got out.
"Did he hurt you bad? Are you all right?"
"I think so," he managed. "Knocked the breath outta me."
When Peggy finally got the bull turned and headed for the barn, she went back to Doug. He was on his feet holding the broken hoe.
"Sorry I broke your hoe."
Peggy was relieved. "That's okay. I got it on sale for five dollars."
I had the fence fixed when they got the cattle back to the pasture.
The next morning our daughter came over to get milk and eggs.
"How's Doug?" Peggy asked.
Tonda chuckled, "Last night, I asked Doug how he got all those burses. He said, 'You just can't trust a five-dollar hoe.'"
Quote for the week: Peggy had just come back from milking and doing the barn chores. While straining the milk, she was complaining about the work she sets up for herself, because she just can't keep herself from farming.
We got quiet. Then, I overheard her say to herself, "My own stupidity never ceases to amaze me."
May 22, 2011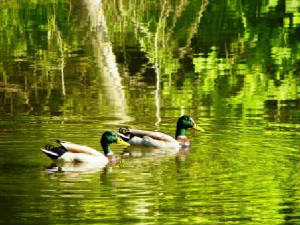 Mallards
May 22, 2011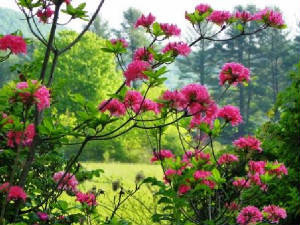 Exbury Azalea
May 22, 2011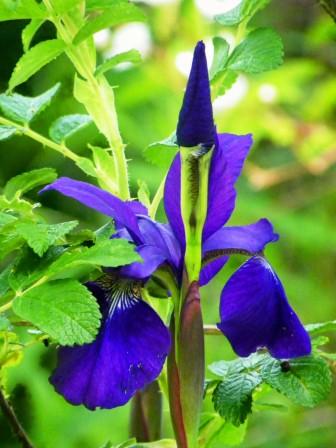 Iris
May 22, 2011, The briar patch
When our youngest daughter started courting, her boyfriend decided he would impress Peggy.
"Can I help you mow the Christmas tree fields?" Roy asked.
Delighted, Peggy said, "You sure can. Come on with me and we'll mow.
They hadn't mowed long when Peggy ran out of gas. "I'm going to the store and get more gas," she told Roy.
Peggy figured, anything she could do, ought to be easy for a young man, so she left him mowing in the field that had been taken over by some wicked blackberry briars.
When Peggy was coming back with the gas, she met Roy coming out of the driveway. "Where're you going?" she asked Roy, noticing he was scratched with oozing blood all over his arms and face.
"Please, don't tell anybody," he pleaded, "but I'm not man enough to do that job."
Peggy chuckled, "That's all right Roy, I'll finish mowing the briar patch."
Roy's demeanor fell even more when he realized a one hundred and ten pound woman could do what he couldn't, "No, I really mean it … I'm not man enough handle any part of that job, but please, please don't tell anybody."
May 14, 2011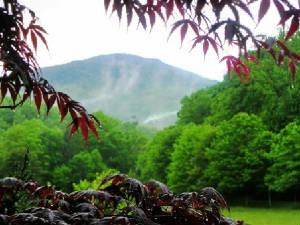 Dripping wet evening
May 15, 2011
Mid-May Water Lily bloom
From family picture album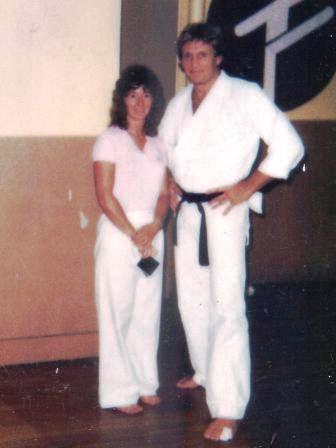 Peggy with Joe Lewis
May 15, 2011, Peggy can kick too
When the children were young, Peggy took karate to stay fit. Being petite, and at most times, the only girl in class, Lee, the instructor, worried Peggy would be the weak link in his testosterone laden team. However, Peggy was a natural at karate: quick, fast, and precise. I still remember her practicing on me. Only way I could keep from getting whipped was to lunge and capture her in a bear hug.
One time, her class lined up doing 'epons' — partners would practice sparing moves on each other, then move down the line to a new partner. When Peggy paired with Lee, she threw her punch only to discover he wasn't blocking, so, at the last moment, she pulled her punch.
Having never been on the receiving end of one of Peggy's punches, Lee thought she was being a timid girl and not hitting according to his standards.
Angrily, he stopped the class. "You hit like a sissy and you didn't even follow through with your punch. If you're going to be in this class, you learn to hit like a man."
"You didn't block," Peggy replied.
"Don't ever pull your punch," Lee continued. "If your partner doesn't block, you hit him, understand? We'll keep the same partners and if you pull your punch this time, everybody is on the floor for two hundred push-ups."
Peggy was stunned, as well as the other students.
Lee called for a front kick, instead of a punch, and warned Peggy again that she had better not pull her kick.
"You'd better block," Peggy returned, a bit miffed.
On the count, Peggy front kicked.
Lee didn't block or tighten his stomach muscles.
She followed through right into his solar plexus with lightening speed and quick recoil.
"Well done." Lee bowed to her. "Larry, take over," he said as he went to the dressing room.
Larry, the assistant instructor, carried on the class for about fifteen minutes.
"Richard, take over," Larry said and went to the dressing room to check on Lee.
Richard carried on for a while.
"Wayne, take over," Richard said and went to the dressing room to see why the others hadn't returned.
Richard came back grinning at Peggy.
The class ended without Lee or Larry coming back out.
Some years later, after Lee had left to join the Army, Peggy asked Larry, "What happened that night I kicked Lee?
Larry replied, "I guess it's safe to tell you now. When I went into the dressing room, Lee was lying on the floor in agony. He thought you might have ruptured his spleen. I wanted to take him to the hospital, but he had too much pride. He made us swear we'd never tell anyone that you hurt him worse than any man ever had."
May 8, 2011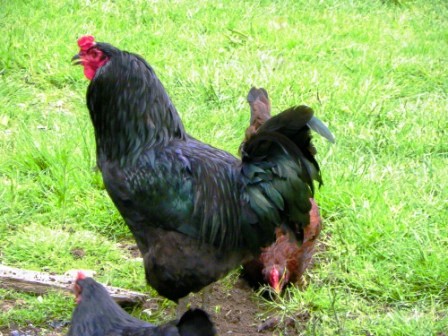 Rooster & hens
May 8, 2011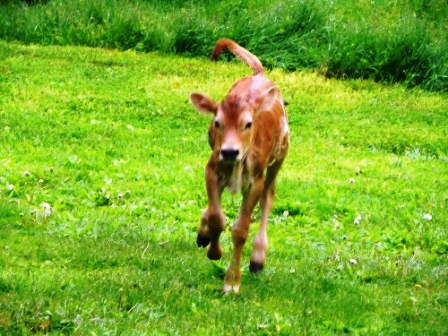 Maybelle, two days old and fill of life
May 5, 2011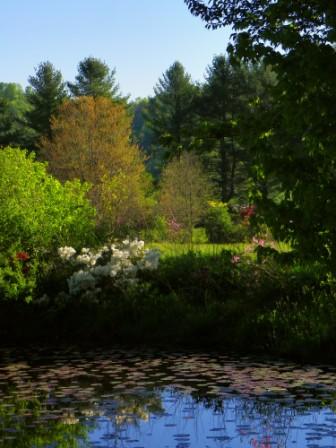 Colorful evening
May 8, 2011, It still hurts to tell this one
Another one of our granddaughters turned twenty-one this month. When Ashley was almost two, Peggy raised a young filly from her horses. One Sunday I was carrying Ashley on my shoulders through the horse pasture where Peggy was checking on a newborn foal. The yearling filly was standing beside us.
"Do you want to pet the filly?" I asked Ashley.
Peggy heard and hollered, "Don't touch the filly, she'll kick."
My mind has a hard time processing 'don't.'
"She's gentle," I said and reached out and petted the filly on the rump.
Ka … whack, the filly whirled and kicked me in the privates.
Peggy had sensed what was going to happen and managed to grab Ashley as I went down.
For days, I could hardly walk.
Of course, Peggy had to rub it in. Not only did she use "I told you", she also begged to take pictures. Adding to my suffering, she didn't hesitate to point out the psychedelic colors and the swelling.
May 1, 2011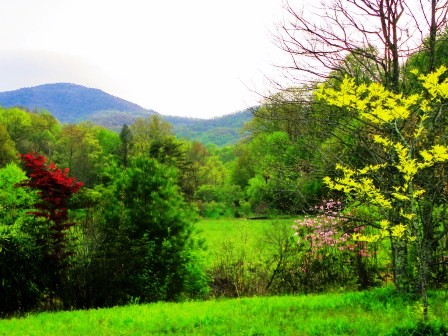 May Day landscape
May 1, 2011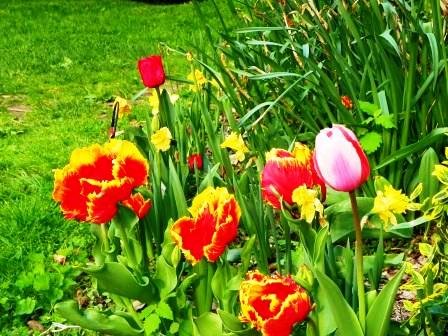 May Day tulips
May 1, 2011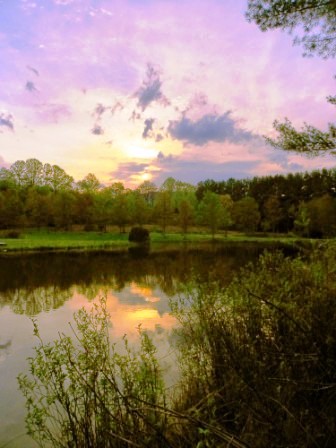 May Day evening
May 1, 2011, You scared me
Back in the mid Eighties, farmers around here grew their tobacco beds down off the mountain in the Globe where it got warm earlier. Peggy had driven her one-ton flatbed truck to the Globe and pulled tobacco plants one morning. That afternoon just before five o'clock, while she and the kids were planting, the drive chain on the tobacco setter broke. The truck was handy so she took off to go get another chain before the store closed.
Going down Highway105 toward the Watauga River Bridge, a siren went off. Startled, she hurriedly pulled off the highway and jumped out of the truck.
The patrolman put on his hat and came walking up looking professionally intimating.
"You scared me," Peggy accused.
All his professionalism vanished as he started laughing. "Must have scared you bad considering how wet your pants are," he told her.
"You made me spill my drink."
"Had to use the siren. You didn't notice my flashing lights."
"Why would you want to stop me anyhow?" Peggy asked.
"You've not got a tag on your truck," he explained.
"Oh, I know that. It's here in the floorboard. It fell off this morning when I was down in the Globe pulling tobacco plants. Didn't have any way to attach it back — and I'm trying to get parts before the tractor place closes"
"Better hurry, and make sure your husband puts the tag back on when you get home," he said and left, still chuckling.
April 24, 2011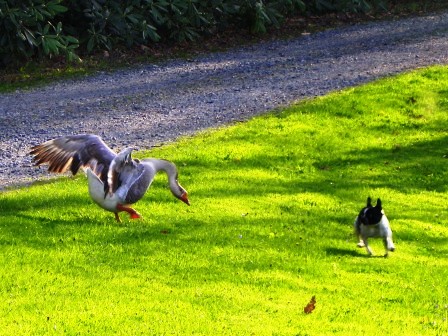 Territorial
April 24, 2011
The Dogwood
April 24, 2011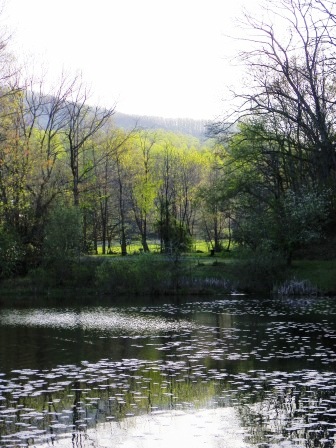 Evening shadows
April 24, 2011, I'm glad she learned on Rex
Peggy told another story from high school this week.
Seems the teacher of her class had to leave the room.
While they were waiting on her to return, Rex said, "Peggy, I need a haircut." He got the scissors off the teacher's desk and handed them to her. "Cut my hair."
Peggy had no idea how to cut hair, but that didn't faze her. "Sure," Peggy said with a mischievous grin, took the scissors, and started cutting Rex's hair.
Before she finished, the principal, students had nicknamed 'Old Crow', showed up to check on the class. Highly upset, he demanded. "What's going on here?"
"I'm training her to make me a good wife," Rex calmly told him.
"Carry on," Old Crow replied and went back to his office.
April 17, 2011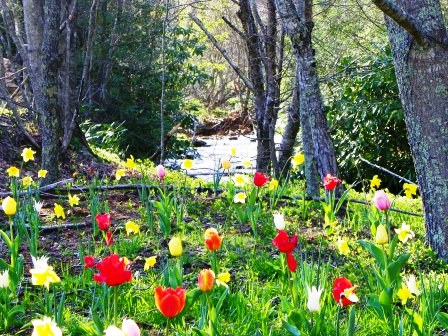 Peggy's Tulips
April 17, 2011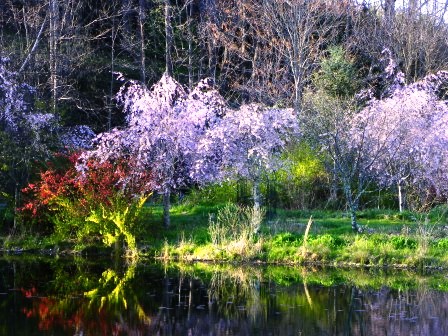 Evening reflection
April 17, 2011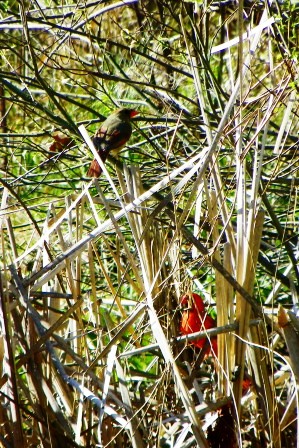 Hidden in the brush
April 17, 2011, Game's over
Until her senior year, when Ashe County consolidated some of the high schools, Peggy attended Riverview School, a small combination grade and high school up North fork of New River. Each grade had about twenty-five to thirty students. A few books in the top of the coat closets served as the library.
One winter evening during a basketball game Peggy and the other cheerleaders were practicing some routines in the hall to the gym next to the stove where it was warm. A couple of boys kept hanging around the stove aggravating them.
"I'll fix them," she told the girls.
She went to the lunchroom, got some pepper and sprinkled it on the stove.
It got rid of the boys. In fact, it cleared the whole gym. They had to cancel the game. The principal banned Peggy from cheerleading for the next three home games.
April 09, 2011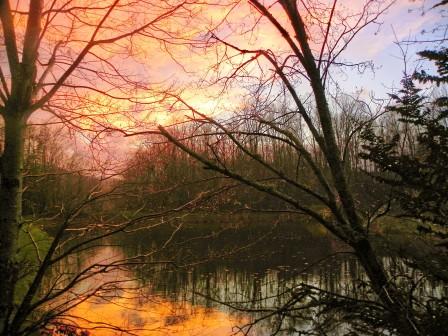 Sunset after storm
April 10, 2011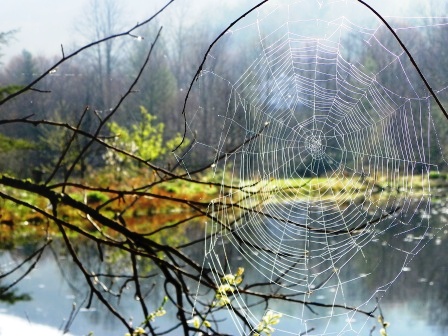 Some Web
Spring Blooms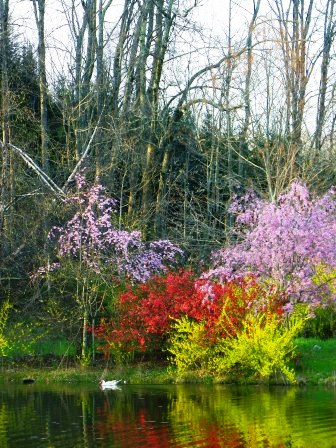 April 10, 2011
April 10, 2011, One of the boys
Peggy and I met with the development team of a local resort concerning a survey project. Although the only lady present, Peggy kept up with the men swapping jokes and tales. She had just finished telling the story of 'why there are so many baldheaded men' (see September 26, 2010 post).
While most of guys were still rubbing their balding heads, Steve started telling a joke and stopped mid-sentence. "I can't tell this in mixed company," he complained.
Then he turned and whispered. "Peggy, I'll tell you later."
April 3, 2011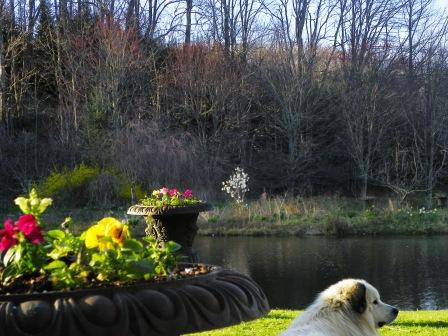 Evening Watch
April 3, 2011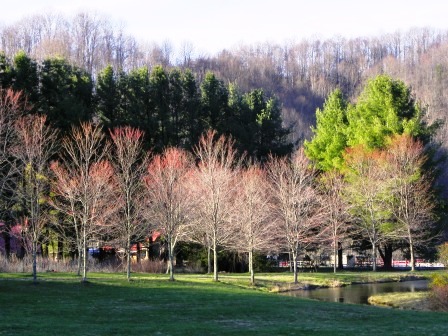 Budding Maples
April 2, 2011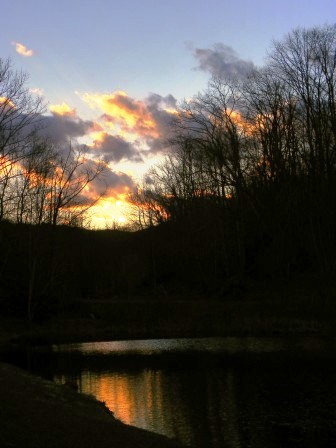 Evening solitude
April 3, 2011, Fits?
Several years ago, Peggy attended her high school reunion. She and Ronnie were catching up on what they had been doing since graduation.
"Maturity suits you," he commented.
"Youth would suit me better!"
Ronnie shook his head and grinned, "You haven't changed a bit."
Peggy is printing her seventeenth novel, Served Cold., as in 'Revenge is best served cold.'
I read along as Peggy wrote. She started with a 'What if?' and some characters.
Almost every day, she said, "Until I'm actually writing, these characters won't communicate. I have no idea where their story is going."
We kept wondering — all the way to the end.
March 27, 2011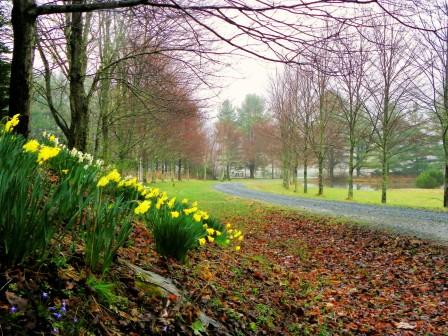 Spring's welcome
March 27, 2011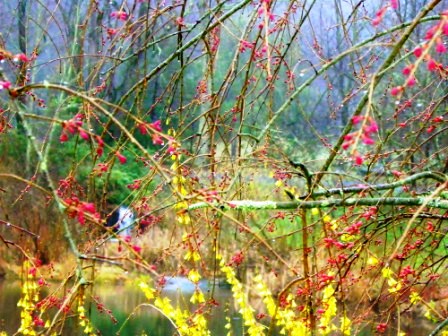 Spring buds opening
March 24, 2011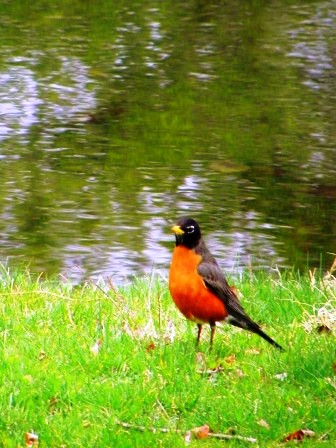 Robin in the yard
March 27, 2011, Misery loves company
A week ago, Peggy and I traveled to South Carolina for her presentation at Sun City. We stopped to spend the night at Walterboro along I-95. Reminded me of the time I stayed overnight at Walterboro one Christmas Tree season.
Peggy purchased a vintage 1963 Chevrolet cattle truck to haul her trees that 1996 season (see November 21, 2010) post. When we were loading the trees, our oldest son, Trampas, placed a hundred-count bottle of aspirin on the dashboard.
Trampas grinned, "Dad, you might as well name this truck, 'Misery'. You'll need every one of these aspirins on your trip. The truck isn't much right now, but it will be in fine shape by the time you get it back home."
Sad, but true: thirty miles out, the rear differential spewed its gears all over the highway.
I called Brandon, the middle son at eleven o'clock on a cold night, "Can you get out of bed and bring your tools to help us fix a differential?"
It took the rest of the next day scouring junkyards to get the parts and make the repairs. We only made it into South Carolina the following day as Caleb, our youngest son who was driving a van, had tire trouble on the trailer he was pulling.
The following morning, Peggy came out of the motel. "What are you doing under the hood?" She asked.
"I'm trying to adjust the steering box. The steering wheel has a half turn of play. If I adjust it, maybe I'll only need to use one lane today."
By evening, we were buying as much oil as fuel. The starter quit and we had to get everyone at the service stations to help push the truck off to a start.
After setting up the tree lot, I replaced the oil seals and starter. Heading home, it wasn't long till I was having problems with the fan belt and generator. I stopped at Walterboro that evening to make repairs. I called and left Peggy a message where I was staying.
"You've got a telephone call," the motel manger hollered jovially.
"How did he know the call was for me?" I questioned Peggy.
"He asked, 'Would he be the one out working under the big red truck'?"
"Why was he grinning?"
"I answered. 'Yeah, that's him. We call the truck 'Misery.' Don't they make good company?'"
March 20, 2011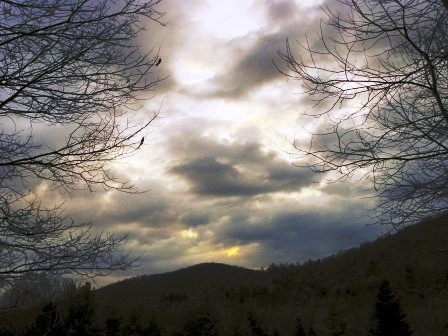 First morning of Spring
March 20, 2011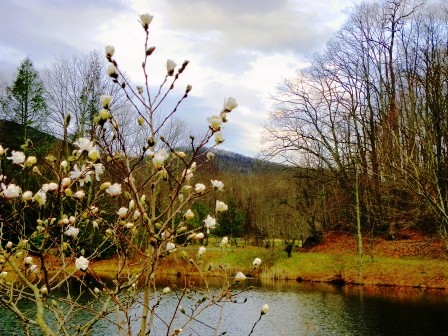 Magnolia in bloom
March 17, 2011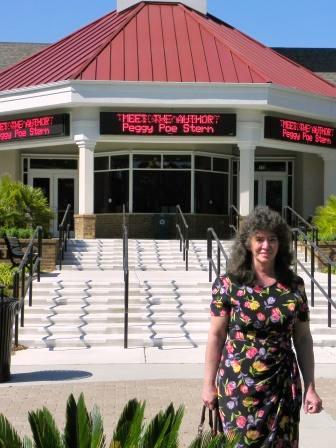 Is she famous yet? Peggy at Magnolia Hall, Sun City, SC
March 20, 2011, Housekeeping
Last week, Peggy noticed I hadn't gotten around to some tasks I'd been planning to do.
She said, "David, you remind me of the old expression, 'Too poor to paint, and too proud to whitewash'."
"I know," I replied. "Poor folks have poor ways."
Living a lifestyle that cultivates these and other sayings such as, 'Living by making do' and 'Being so far behind you think you are ahead,' has its affects. Peggy tends to keep things for harder times and collects lots of stuff. Makes housekeeping a chore for us. The good thing, about her keeping things, is that she's kept me around all these years — reminds me of a conservation Peggy had with one of our land developer clients.
"I'm getting married again," Wes told Peggy.
"You're getting married again," she said, a bit puzzled since he was in his seventies, "How many times have you been married?"
"Five times," he said. "The best thing I can say about my former wives is that they were all good housekeepers."
"You're marrying again to get another housekeeper?" She questioned.
"Oh no," he chuckled. "When we divorced, all my other wives kept the houses."
March 12, 2011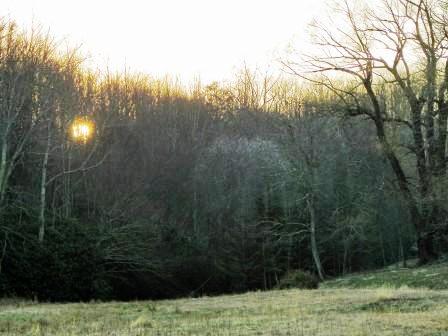 Sinking Sun
March 12, 2011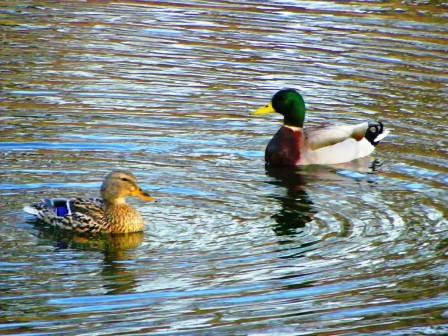 The Mallards are back
March 13, 2010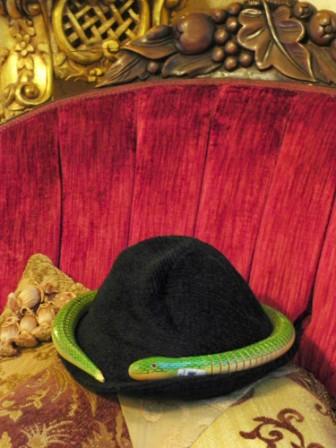 Snake in the hat
March 13, 2011, A Touch of Class
Today is our wedding anniversary. Heading out to do the feeding this morning, I put on my coveralls and cap, then hunted up Peggy.
"I'm going to the barn," I told her and grinned. "Bet you never thought I'd look like this, forty-six years ago."
"If I had, I wouldn't have married you," she quipped.
This weekend, Peggy cleaned out a place to put a new computer. In the pile of things she had set aside to be put back in the right places, was a toy snake the great grandkids had been playing with. It reminded me of an incident Peggy tells that happened a few years ago at 'A Touch of Class', a ladies clothing consignment store in Spruce Pine.
While standing at the checkout counter, a hat on the dressing room wall caught Peggy's attention.
"I like the hatband on that hat," she told the clerk. "Don't much like the hat, but I really like the hatband. It looks real."
"What?" asked the clerk.
"That hatband looks like a real snake,' Peggy replied as she took a closer look. "Uh oh, it moved," she said, taking a few steps closer. "It is real," she added.
"What?" asked the confused clerk, again.
"There's a snake on that hat next to the dressing room!"
"What did you say?" A head popped out of the dressing room.
Peggy pointed to the snake.
The lady, who had been trying on clothes in the dressing room, came flying out, dressed in her undies and clutching her clothes in front of her. Several other ladies ran out of the store.
One lady, dressed in a kaki jungle outfit said, "I'm not afraid of snakes, I'll get it."
She wasn't quite as gung-ho when she got to the snake, but did manage to get a towel, catch the snake, and take it outside.
Peggy still laughs about how a live snake would willingly turn itself into a hatband.